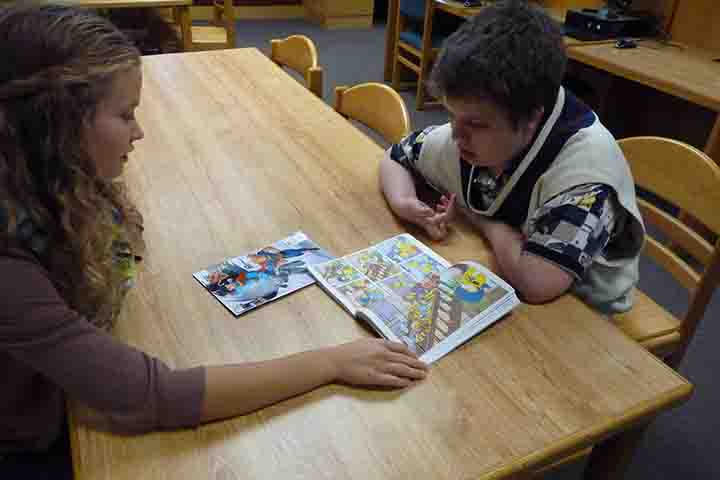 Ryan Liston
Rather than spend the day going from class to class, freshman Benji Horton spends most of his day in the special education classroom. Horton has autism, a developmental disorder that affects his social and communication skills.
An average day for Horton consists of his paper delivery, health class, interpersonal skills, independent living and his required core classes within the autism classroom. The special education program is designed to fit each child's needs in order to set them up for success.
"It's more individualized in our program than general education classes," said Erin Campbell, special education teacher.
Every morning during first hour, Horton delivers the newspapers to the teachers. He has become quite the celebrity on his paper route.
"I love Benji," said Chuck Law, social studies teacher. "It's the highlight of my day when he delivers the newspaper. We exchange some pleasantries and its great. He's such a neat kid."
The newspaper route has had a significant impact on Horton. Within the last three months since school started,everyone around Horton has noticed that he has become more outgoing and better at communicating.
"It's helped him come out of his shell, so to speak, " Law said. "It's just cool to be able to see him evolve and become more outgoing, smile and have fun."
Horton can also be found at the Early Bird Coffee shop taking orders, making coffee, working the cash register or baking cinnamon rolls the day before from scratch with paraeducator Justin Deaver.
The dedicated and highly trained special education staff play a big role in Horton's success. Even Horton knows that, as Campbell is his favorite teacher.
The special education staff gets to know each student individually, so they can work to create an atmosphere that fosters success for each student. For Horton, that's a fun, easy-going environment.
"Benji likes to joke around, so if we want him to do something and he is kind of having a rough day, we try and joke around and play with him," Campbell said.
The strong relationships that Campbell develops with her students are the main reason her job is so rewarding.
"[I love] seeing the kids meet tiny little goals and achieve the little things that you and I take for granted and [seeing] them doing some of the stuff on their own or as independently as possible," said Campbell.
Horton is just like any other student. He loves to read and visit the library in his free time and hopes to work in a library when he's older. Baby Ruth candy bars are his favorite food. Horton also enjoys going to health class, eating lunch, seeing his friends, working on his work boxes, or his school work, and delivering papers. Horton answered the interview questions through visual prompts.
Campbell's favorite characteristic of Benji is his "laugh and smile." His sense of humor is also loved.
"He's just super funny," said Campbell. "He says the cutest things. He'll say "oh man" or "oh no" and its just really funny to hear him because he just comes out and you don't expect it."
From his sense of humor to his positive attitude, Horton leaves a unique impact on everyone around him.