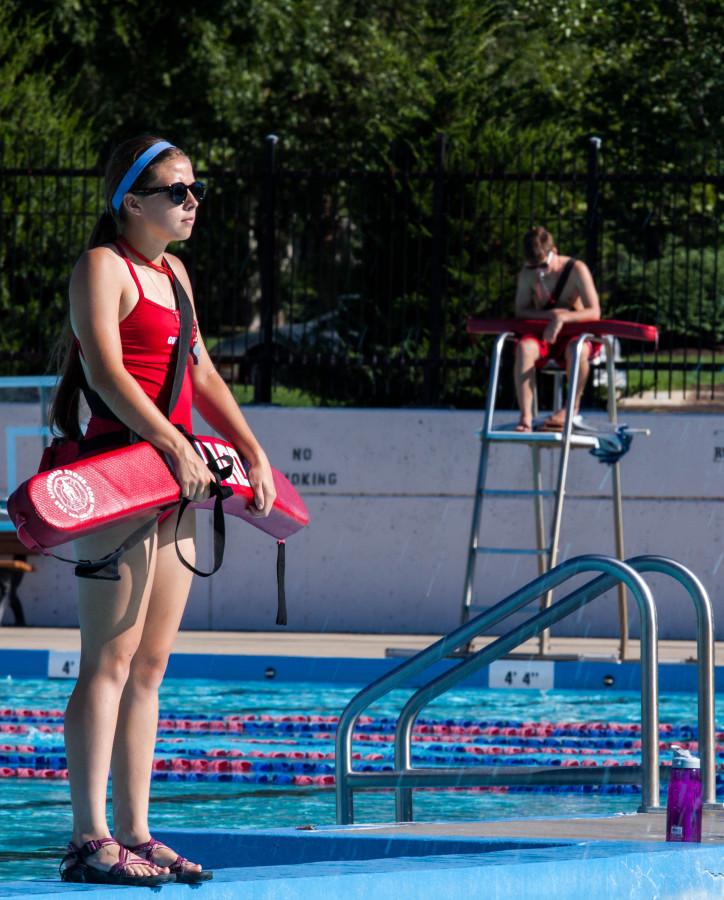 Nick Popiel
When she isn't flipping chicken nuggets or taking orders at Wendy's, junior Maame Britwuum tends to her least favorite part of work, cleaning the bathrooms.
"You've never felt real pain until you have to clean the men's bathroom after lunch rush with a bunch of construction workers," Britwuum said. "I'm a germ freak just as is, so going into a bathroom that has dirt in the sink and food wrappers in the trash makes me really sick."
From cleaning dirty men's restrooms at Wendy's, to serving up platters of bacon at the Big Biscuit, many students put on their uniforms and pinned on their nametags this summer to work hard, meet new people and make some money.
For senior Megan McReynolds, working as a waitress at the Big Biscuit this summer was good money management practice.
"I would give 50% to my savings account, 40% to spending and then 10% to giving (to charity)," McReynolds said. 
Junior Tanner Hockenbury, a cook at Tad's Pizzeria, is less stringent when it comes to divvying up his paycheck.
"I'm in high school; I don't really need to save too much," Hockenbury said. "Spend it while you still can. That's my advice to you … Because when you get older, you're not going to have that luxury."
While she enjoys making money, Britwuum sees other reasons for working.
"I have my job to learn work ethic more than anything," Britwuum said.
She does, however, enjoy making money independently.
"My favorite part of working is the money," Britwuum said. "If I see a top I really want, I don't have to ask my mom; I can just open my wallet."
In addition to the paycheck, McReynolds also enjoys her coworkers' company.
"They made you feel like family," McReynolds said. "Everyone there was really kind and we got along well with each other… It was a tight knit group of people."
Sophomore Kara Krannawitter also enjoys her coworkers and the familiar atmosphere at her job as a deli girl at the Clinton Lake Marina.
"There's probably 12 summer staffers, and so off the bat we all just kind of bonded very well," Krannawitter said. "We're in a tight space for long hours, so we just kind of have to get along, even if we don't want to."
While these students had ample time to work during the summer, the school year creates more obligations for students and less time for work.
"I decided (to quit at the beginning of August because) it didn't really fit into my schedule," McReynolds said. "I wasn't able to commit all of my weekends to having a job … (I) just decided that my outside commitments for school were more important."
Even though her hours will be limited, Britwuum plans to continue working during the school year.
"I plan to work during the school year, but my parents have a rule that we can't work during the school week, on Sunday, and a few weeks leading up to important exams like the PSAT, SAT, and finals week," Britwuum said.
Hockenbury has worked for nine months, and while it's tough at times, he has been able to find a balance that works for him.
"It's definitely a lot of late nights," Hockenbury said. "I work 'til midnight a lot of the school nights, so I will get up at seven and go to school, go to practice, go straight to work and get off at midnight and do it all the next day."
Senior Elyse Boxberger, lifeguard at the outdoor and indoor pool, believes that the benefits of having a job as a teenager outweigh the sometimes tiresome work.
"…It's going to be hard now, but I think it's worth it," Boxberger said. "Having a job just prepares you for the real world and managing time and having responsibilities."