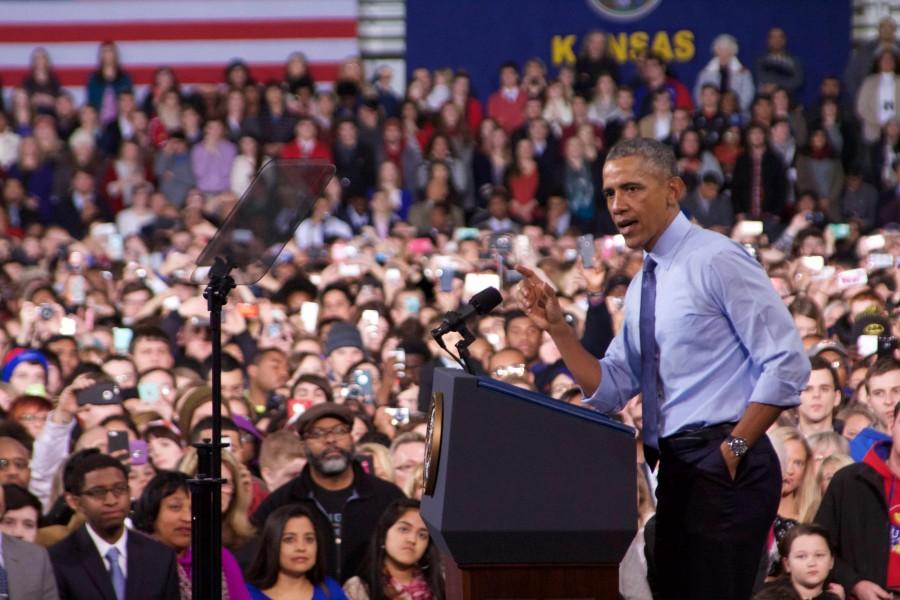 Kyra Haas
Senior Laura Corliss shook the left hand of the President of the United States—at least, she's pretty sure she did.
"I couldn't see him," Corliss said. "But I felt his wedding ring."
On Jan. 22, President Barack Obama spoke at Anschutz Sports Pavilion on the KU campus in front of about 7,150 people, many of whom were KU students and community members, but some of whom were high school students. Obama reiterated and expanded on several topics mentioned in his recent State of the Union: child care, community college and middle-class economics.
Noting that the average cost of full-time child care for an infant is about $10,000 per year, in his speech Obama advocated for a more affordable approach. His proposed budget would extend federal child care subsidies to cover more families and triple the maximum child care tax credit.
"It is time that we stop treating child care as a side issue or a quote, unquote women's issue," Obama said.
To reinforce his stance, Obama had KU senior Alyssa Cole, single mother of three, introduce him. Cole wrote to Obama in 2013 about concerns related to the cost of education and child care.
"I was very nervous when I got the call asking me to introduce him, and I was shaking pretty much the entire time," Cole said. "But it was definitely an honor because I'm not used to a lot of attention. I'm just a normal person, not anyone special."
Obama further proposed free community college for "qualified" students—those who attend at least half time and maintain at least a 2.5 GPA while working toward a degree. Under the proposed budget, the federal government would cover 75 percent of the cost and the rest would be picked up by the states. Obama also wants to decrease monthly student loan payments.
"I'm sending Congress a bold, new plan to lower the cost of community college to zero," Obama said. "Down to zero. In the new economy, two years of college should be as free and as universal as high school is today."
For senior Judson King, who arrived at 7 a.m. to secure a decent spot in the crowd, the president's comments about community college resonated with him the most.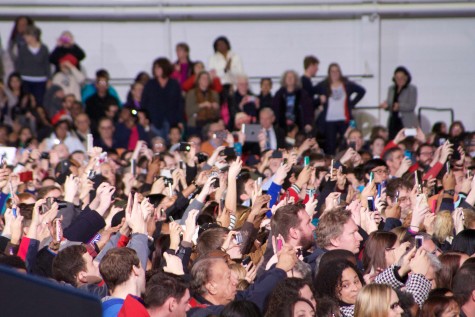 "In America, we are one of the only countries that has higher education that's super expensive, and offering a free or reduced education option for at least two years can give people that qualify for it an opportunity that they wouldn't otherwise have," King said.
To support his "middle-class economics," Obama called on Congress to pass a law that ensures equal pay for both genders, referring to the step as "sort of a no-brainer."
KU junior Miranda Davis, News Editor for the Daily Kansan and 2012 Free State graduate, agreed.
"When he referred to women getting equal pay as men, that was a very strong comment," Davis said. "I mean, it's 2015, duh."
Obama also reiterated his desire for Congress to raise minimum wage, a point he pressed in his State of the Union on Jan. 20.
"Like I said on Tuesday (Jan. 20), if there are members of Congress who really believe that they can work full-time and support a family on less than $15,000 a year, they should try it," Obama said. "And if not, they should vote to give millions of hardworking people across America the raise that they deserve."
Junior Kierstin Hutfles, who, like Corliss, had the opportunity to shake Obama's hand, felt Obama's remarks toward the Republican-dominated Congress were justified.
"He made sure he stuck it to the Republicans a little bit by making little digs at them, but, it's like, how can he not?" Hutfles said. "The things he's asking for are so reasonable. They just have to be done."
Many students, regardless of political affiliation, valued seeing and hearing the president speak.
"It really was a memorable experience," Corliss said. "It'll be something I can tell my children."