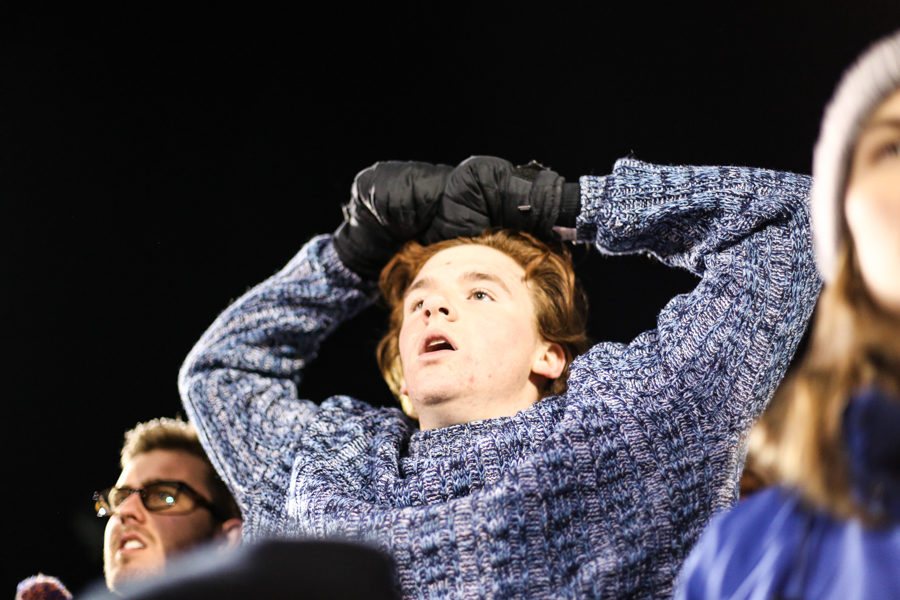 Emma Pravecek
Following last week's victory against Junction City, the Firebirds knew that they had an enormous challenge facing them in the quarterfinals. The challenge was none other than the two time state champions, the Derby Panthers.
This was the third straight year the teams would face each other in the playoffs. The past two years Derby took the game and the state title.
The Firebirds last loss was to the Panthers in the 2016 playoffs. With Derby being the only team to eliminate the Firebirds in the playoffs the past two years, they wanted to get revenge.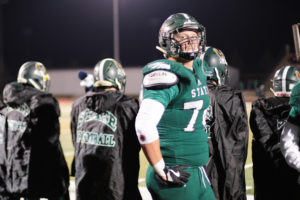 Emma Pravecek
Senior quarterback Gage Foster gave his all on the field with four total touchdowns, two passing and two rushing. Foster also was found in the backfield for a few tackles on the defensive side.
Star running back junior Jax Dineen suffered an injury during the first quarter and was out for the remainder of the game.
With Dineen out, Free State relied on senior Bo Miller and freshman Tyler Bowden along with the lean and mean offensive line to lead their running game.
In what was the most important  game of the season, Bowden delivered. Bowden, a running back, accounted for two impressive rushing touchdowns in the last game of his freshman season.
During the game, each team traded touchdowns on the majority of their drives which led into a high caliber shoot-out.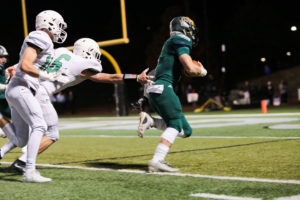 Emma Pravecek
With the teams tied at 49, Free State had possession in Derby's red-zone with under 30 seconds left in the game. On the next play, Gage Foster fumbled the ball and Derby recovered.
Derby drove the ball to the Firebirds  30 yard line which set up for a 47 yard field goal. Derby went for the long field goal and failed to make the kick, sending the game to overtime.
The Firebirds opened overtime on offense but they were denied access to the end zone. Soon after, Derby ended the game with a rushing touchdown that ended the Firebirds impressive undefeated season.
After suffering a 55-49 loss, the heartbroken Firebirds were at loss of words. The first seeded Firebirds dropped their record to 10-1, ending the 2017 season.