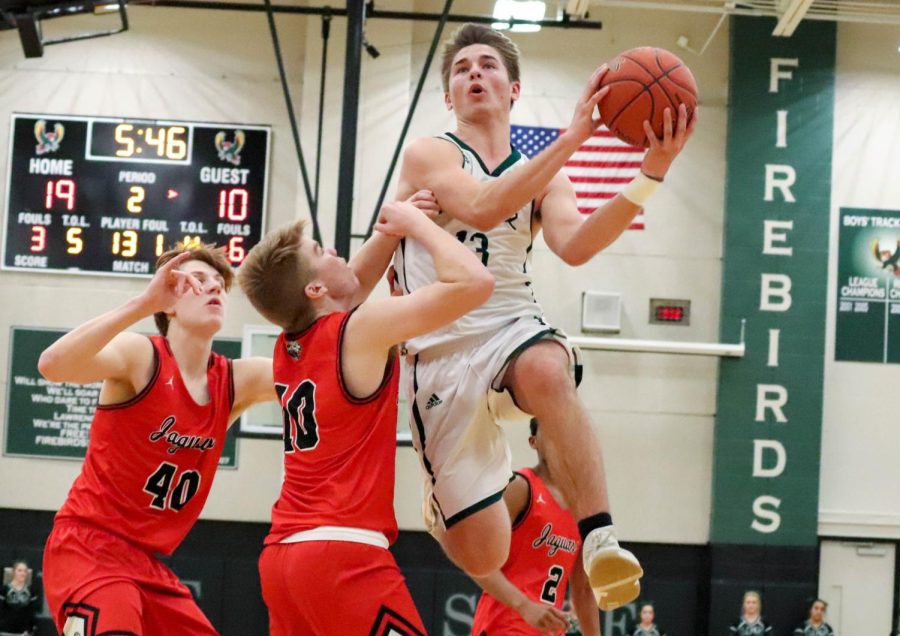 Isabel Janssen
Coach Sam Stroh and the varsity boys basketball team have tipped off their season in the Hays City Shootout, placing third out of eight teams. 
They started their season off with a 59 to 35 win over Millwood, Oklahoma. The win booked them a trip to the semifinals where they would play Manhattan. After a hard fought 32 minutes, the Firebirds came up short against Manhattan scoring 51-49. With that loss to Manhattan, they were guaranteed a spot in the third place game against Hays High.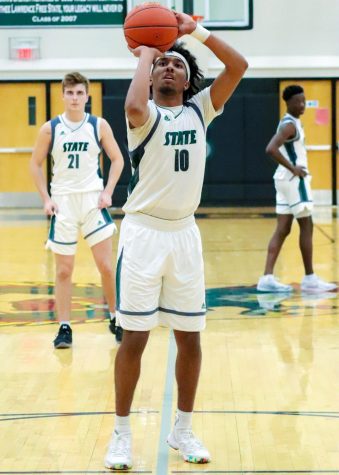 Free State pushed past Hays, winning 46-31 as Ethan Lincoln lead all scorers with twelve points. Olin Yoder was the second leading scorer, finishing with 10 points. 
Even though they failed to win the top title, four players were recognized with  Hays City Shootout awards. Mozae Downing and Darkari Middleton earned all tournament team honors, Olin Yoder took home the most inspirational award and Tate Fanshier was given a spot on the all academic team.
After a disappointing loss in the semifinals, Firebirds still kept with it and solidified a third place finish. But the Firebirds have bigger aspirations than that.
"Obviously goal is to win state," senior Ethan Lincoln said. "That won't be an easy task. Lawrence High is a good team and they have a couple good players coming back. [Shawnee Mission East] will be pretty tough, it's really anyone's league." 
 The Firebirds are returning three starters from last year's state team: Ethan Lincoln, Dakari  Middleton, and Mozae Downing. Senior shooting guard Olin Yoder is very confident on the experience of this year's team. 
 "Since a lot us played with each other last year, I think we know how each other play. We're all really comfortable with each other and we're all really excited to see how it goes." 
Last season's leading scorer senior Noah Butler was recruited  to Sunrise Christian Academy, which has a renowned basketball program. With Butler leaving, an opportunity opened up for a current player to take the leading scorer position.
"Our strength is our depth," Stroh said. "Got some good leaders and we also have some young guys." 
With the mix of leadership and the developing underclassmen, this should be poised year for Stroh and the Firebirds. A highlight game for this season will be against Olathe North, led by third ranking state recruit Katrell Raimey according to 247 sports.
Stroh commented that Shawnee Mission East will be one of the toughest games of the year, along with the anticipated City Showdown against Lawrence High at Allen Fieldhouse.