Junior shares story of aneurysm, support
It began with light headaches that became so severe junior Thor Lyche found it difficult to walk or stand. It finally became intolerable on Dec. 21, and Thor's mother took him to get a CAT scan at Lawrence Memorial Hospital. He was immediately transferred to the University of Kansas Medical Center in Kansas City where doctors found an aneurysm on Dec. 26 behind a blood vessel in his brain.
An aneurysm is a blood-filled sac that can grow on any blood vessel, most commonly in the brain. When the sac ruptures, it causes bleeding and hypovolemic shock.
"Forty percent of people who get aneurysms die, so it's nice to be part of the 60 percent," Thor said.
Surviving his aneurysm is only the first part of his recovery. Thor will need yearly brain scans for the rest of his life.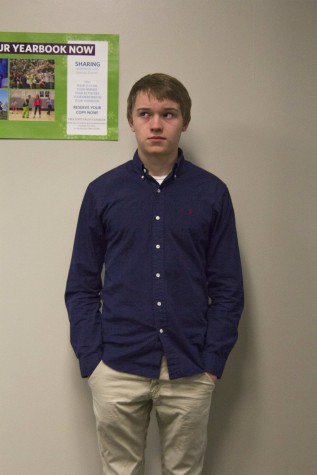 "At first it was really hard; I was on a lot of medication for pain," Thor said. "I couldn't concentrate in school, but not anymore. I still can't work out, but I'm getting off medication so I can focus on school."
Having swum competitively since elementary, Thor was unable to participate in this year's school season.
"I had to quit because of [my aneurysm], and I can swim again in four weeks, but the swim season ends by then, so I won't be able to go back to swimming this year," Thor said. 
Besides swimming, Thor was an active basketball player from his childhood until October of last year when he got double knee surgery. He has also run track since eighth grade.
While Thor's aneurysm has taken a toll on his life, he remains optimistic about his recovery. He credits part of his success to his friends and family.
"My brother and parents [have been supportive], like they came up every single day, and my brother came up [to the hospital] and brought people," Thor said.
Thor's good friend, junior Andrew Ferguson, visited him every week while he was in the hospital.
"I'm just there for him," Ferguson said.
Thor's triplets, juniors Liv and Christian Lyche, helped with Thor's recovery.
"I've just been patient with him and helped him out, like help out where I can," Christian said. "He can't really do stuff, but … I just make sure he doesn't do stuff he's not supposed to do."
Christian also holds hope for Thor's recovery and is by his side for each therapy session.
 "He recovered a lot," Christian said. "I wouldn't say quickly, but compared to what happened to him, the recovery was pretty quick."
Leave a Comment