On My Honor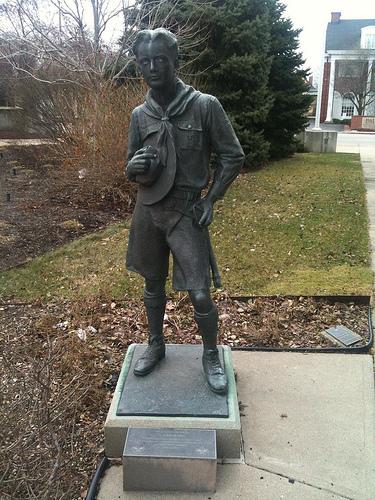 The Boy Scouts of America was created in 1910 and since then 110 million young men and adults have joined the ranks. But missing from the ranks are all the homosexual males who wanted to join.
A meeting to discuss this topic was supposed to take place in February 2013, but the National Executive Board decided to put off making a decision until May.
John Stemberger, founder of OnMyHonor.net–a website dedicated to "keep[ing] sex and politics out of scouting"–has a different view on what will happen. If BSA allows gays, the website says, "We are going to create a myriad of problems that really is going to result in further scandal, and further disgrace to the scouts, not to mention just the tragedy of the emotional, sexual, psychological, and physical abuse that will occur in the program."
According to John Stemberger, if gay individuals are allowed, everything will fall apart.
Sophomore Life Scout Alex Doktor has a different opinion: he believes gay individuals should be allowed into the Boy Scouts.
"Gays should be allowed into the organization because they are a part of modern society," said Doktor. "They need to be allowed the opportunity to prove that they are human."
Proving oneself can be difficult when people seem to only focus on the negative aspects.
Senior Kjell Mullenix, who is also currently working on his Eagle project, thinks that gay individuals should be allowed and the board members seem to be worrying too much about allowing them.
"The board members might be having  the monster under the bed feeling, which then leads them to fear the unknown," Mullenix said.
Film teacher and Eagle Scout Scott Smith believes that if the decision is not made before May, it could lead to some disastrous outcomes.
As the committee equivocates on whether or not to change its policy, many are appalled at the potential reversal of tradition."The Boy Scouts may run the risk of a wave of departures by conservative church-sponsored troops," Smith said, "as well as Scouts and Scouters who may quit or leave due to a reversal of the decision."
Under the current rules, some Eagle Scout candidates can be denied the rank because of their sexuality.
Ryan Andresen was an Eagle Scout candidate from the San Francisco area who completed his project, a tolerance wall to raise awareness about bullying.
But Andresen was denied the rank of Eagle because he was gay.
"That's too bad, but he knew he was taking a risk by being openly gay," Mullenix said.
Senior Eagle Scout Andrei Elliott agrees.
"He did the project and he deserves to get the rank."
The typical Eagle Scout project requires no specific number of hours, but it does require paperwork, leadership and initiative to start a project and complete it. All of Andresen's work was stripped from him in one second.
According to the committee, one of the reasons why Andreson did not obtain the rank was that he failed his duty to God.
Mullenix doesn't see the logic behind the Eagle Scout committee's decision.
"Multiple religions allow gay people, and the duty to God has no specifics," Mullenix said.
 Smith agrees.
"God and the Bible tell us not to judge," Smith said. "And don't they tell us to 'love one another?'"
According to huffingtonpost.com  Bonnie Hazarabedian, a volunteer district advancement chairwoman whose main job is to keep troop records and keep the districts records, said sexual orientation should not factor into why a scout is a scout.
"Scouting teaches and promotes discipline, organization and leadership," Smith said. "If a young man wants to be part of an organization that promotes that, awesome, we need strong leaders today."
This debate about allowing gays to join Boy Scouts has even piqued some celebrities' interests. Bill Gates, a former Scout, said, "It's time for BSA to change their rules because it's 2013."
Steven Spielberg, an Oscar-winning director and Eagle Scout, decided to leave his position on the BSA advisory board because they are taking a long time to make up their minds about allowing gay individuals.
Madonna had a more unique approach to get her point across. She wore a Cub Scout uniform to a concert and said that Boy Scouts should "change their stupid rules and allows gays."
"Celebrities voicing their opinions is better than staying silent," Doktor said.
Elliott believes that ordinary people could have the same amount of influence as the rich and famous that live among us.
"Its a good thing that they voiced their opinions," Elliott said."However, more consideration shouldn't be given because of being a celebrity."
The BSA National Executive Board will make their final decision about this heated debate on May 22nd, in Grapevine, Texas.