Editor reviews Basil Leaf Cafe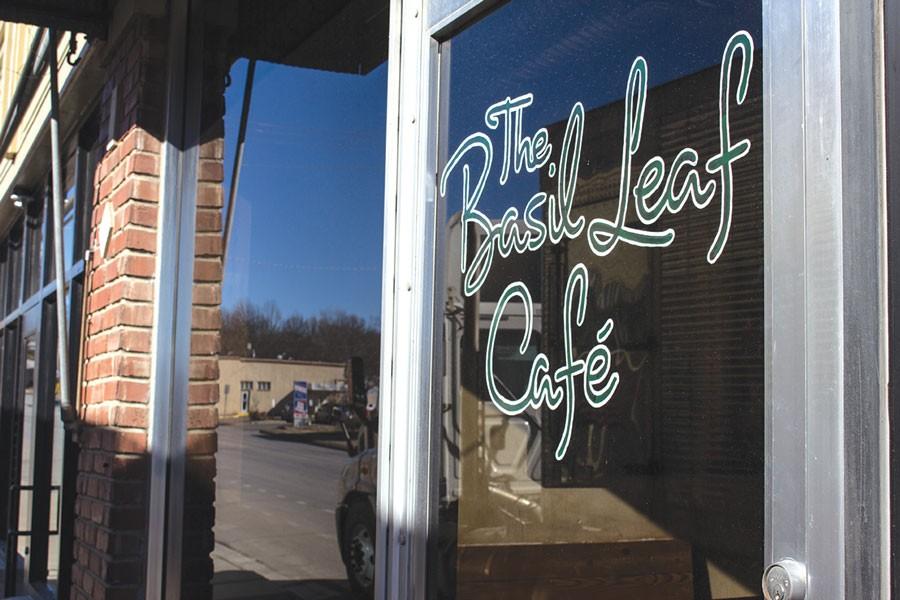 My first impression of Basil Leaf Cafe was that it was closed. When I drove by, the lights were so dim they didn't look like they were on. My next step after realizing the restaurant was open was attempting to find a parking spot.
A small lot behind the cafe, located at 616 W 9th St., was packed on my first loop around, but after almost parking in several reserved
spots I finally found one where I wouldn't get towed. Located where the beloved Joe's Bakery used to be, the restaurant is in a convenient place near, but not directly on, Mass Street.
A now unused door still had the smiling Joe's Bakery logo; l appreciated the owners had chosen to keep this part of Lawrence history. The interior of the cafe was just as dark as it had appeared from the outside, the walls were paneled with old wood and there were candles everywhere. There was almost as much bar seating as table seating, giving the room a classy sports bar-like feeling.
We were greeted by seemingly the entire staff, though there were several other couples eating, and told to sit wherever we pleased. We received menus immediately, and I was immediately disappointed: almost nothing was vegetarian, and absolutely everything was expensive.
The rich, dark atmosphere meant I wasn't expecting a fast food- priced meal, but considering Basil Leaf was in a gas station until its move to its current location in 2013, I wasn't expecting a plate of macaroni and cheese to be almost $20.
Unfortunately, the only vegetarian pasta or entree option was the $17 mac n' cheese, so I didn't have much of a choice. I was tempted to also try the Parmesan Basil Portabella Bites appetizer or Caprese salad, but the prices squashed those cravings quickly. I also considered ordering a pasta dish without meat, but a small note on the bottom of the menu politely asked customers not to change orders.
We ordered this meal, which comes with a breadstick, to share, and spent another $1 on an extra breadstick. After receiving the food a mere five minutes later, we did not regret this choice. The breadsticks were buttery, covered in herbs and absolutely delicious: definitely worth the extra dollar.
As for the macaroni, I think it looked pretty good. I couldn't really tell, considering there wasn't a single lightbulb in the restaurant. However, it tasted incredibly unique. The shells were covered in a creamy, cheesy sauce with "a pinch of chef's red spice." The menu also said the sauce had seven – yes, seven! – cheeses. I was in love.
The speedy service and fancy-ish atmosphere contributed to a very nice meal. If you're starving and by yourself, this may not be the best deal for your money. However, if you're splitting with someone else and neither of you are ravenous, it's a decent deal for a good amount of food.
Apparently, Basil Leaf is more well-known for its take out. We saw several orders going out during the course of our meal. I may try Basil Leaf take-out next year in college when I'm tired of Kraft mac n' cheese and comfortable with splurging $20 on a meal.
Until then, though, I don't plan on returning to Basil Leaf. The downtown location is certainly a lot nicer than the old one, but I'm not enough of a rich foodie to become a regular there. However, if you're looking for a cool place to eat overpriced and tasty Italian food, Basil Leaf is definitely the place to go.