ALBUM REVIEW: You Signed Up For This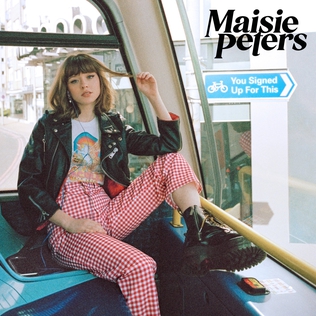 "I'm twenty and probably upset right now," Maisie Peters sings to open her debut album "You Signed Up For This" released last year in August. This is the kind of tongue-in-cheek, silly and odd lyrics that Peters has become known for. She previously released "Dressed Too Nice For A Jacket" and "It's Your Bed Babe, It's Your Funeral" Extended Play's [EP's] and multiple singles, successfully making her an established singer-songwriter. This summer, Peters opened for Sheeran's European tour, playing the hits from this album and teasing new works to come. In many ways, this record mirrors a coming-of-age story. 
From songs like "Brooklyn", portraying Peters' relationship with her twin sister, Peters uses lyrics such as, "If you're looking for the girl of your dreams/…she's in Brooklyn with me/And if you want to take her out/You're gonna have to ask me first", to tracks like "Boy" that use Peters' sense of humor to highlight toxic masculinity in relationships. "She tries to get closer, so you go and ghost her/Like it's perpetual Halloween/You're obsessed with your father, red flag in a half, yeah/Babe we could unpack it for weeks," Peters sang.
"Outdoor Pool" is a very relatable track that delves deeply into the details of a secret relationship at a young age. Taking the viewpoint of a 15-year-old girl, Peters builds an entire story that is very easy to visualize. While many songwriters repeat lyrics throughout their song's chorus,  Peters changes from her initial enamored tune to one of a heartbroken teenager. "You're asking if I wanna come out/It's a Wednesday night, I just took off my makeup/Hope my dad don't wake up /…/Oh, tell me where I went wrong/I'm crying and it's ruining my makeup/Hope my dad don't wake up."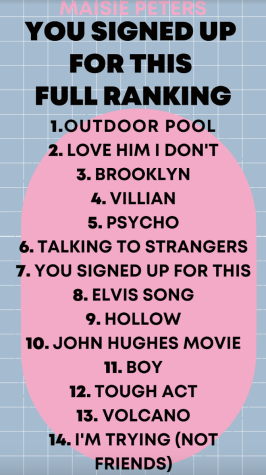 One of the strangest but most iconic lyrics on this album comes off the track "I'm Trying (Not Friends)" where Peters sings, "Three shots, lemon drops/One for being lost and alone in your early twenties/One for being obsessed with someone who puts you secondary/One for calling guys with guitars in a cemetery". She follows this line by saying, "Just me? Okay". Peters aims to replicate a conversation with a friend about getting over someone slower than they got over you, and once again employs a sense of wackiness that makes it so easy to relate. 
This record also contains happy, lovey-dovey themes that come through in the songs "Elvis Song" and "Talking to Strangers" as well as sad, heartbreak songs like "Hollow" and "Tough Act" and the title track "You Signed Up For This". Between both of these categories is "Love Him I Don't", where Peters uses a haunting, more folk sounding instrumentals and smooth vocals to make the compelling lyrics even more intense. 
Every track on this album features at least one moment that makes it special and fun to listen to. Peters' skill with lyricism is similar to that of Taylor Swift, but she creates a unique sound and storyline that makes this album stand out.