REVIEW: The Loneliest Time
Mallory Thompson reviews Carly Rae Jepsen's album "The Loneliest Time".
Carly Rae Jepsen's "The Loneliest Time" consists of 13 undeniably refined tracks
inspired by 80s and 90s dance floor sounds. While a large change from Jepsen's first five albums, this record does not completely abandon her glittery pop roots, and her past works shine through in tracks such as "Talking To Yourself", "Surrender My Heart", and "Bad Thing Twice". However, Jepsen's latest album also delves into more personal topics such as grief, spirituality, therapy and is more of a concept album about loneliness.
Another constantly explored emotion throughout Jepsen's work, and in "The Loneliest Time", is youthful lust; crushes and feelings that come with falling in love for the first time. This album dialed up the maximalism-pop to new levels, while also making it very easy to listen to, reaching new levels of camp, sounds, and themes. The impact of the 80s influence on this album brings an ironic clash between the idea of disco being a mass of bodies on a dance floor and the lyrics and sad tone of voice portraying extreme loneliness.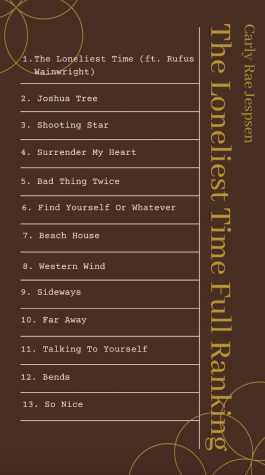 Track 11, "Shooting Star", is a sparkling dance tune that's perfect for singing along. The second track, "Joshua Tree" brings intense visuals through descriptive lyrics such as "I'll eclipse the stars and fall like once before/I'm like Aphrodite/And it's fine to only know the things I know/I'm in the moment, living undercover/California dreaming's never what it seems." Both of these songs' themes are highly focused on Jepsen's own identity with hints of how that affects her perceptions of her relationships.  
The closing song on this album, "The Loneliest Time (ft. Rufus Wainwright)" is arguably the biggest hit with its huge, infectious, energy. "What happened was/We reached the moon/But lost in space, I think we got there all too soon/But you know what/I'm coming back for you, baby/I'm coming back for you," Jepsen enthusiastically talk-sings in an interlude that brings the most iconic moment on this album. It is such a big moment that nearly 170 thousand TikTok videos have been made using this sound.
Overall however,  the instrumentals tend to overpower the genius lyricism, causing the album to run together as background music, leaving only a few songs and moments stand out. Altogether, this is a quality concept record that is easy and fun to listen to and has deep meaning and relatability.