Student council strives to be more inclusive
Student Council presidents plan to organize events that appeal to interests of all students
If senior co-presidents Ruth Gathunguri and Seth Williams have their way, school will be more of a family this year and include all students with different interests. Instead of exclusively celebrating athletes, their focus will be on recognizing students from all backgrounds.
"We feel like a lot of the school is focused around our athletics, and we wanted to make sure that people are like 'art is awesome, music is awesome, Scholars Bowl stuff is awesome'," sophomore Ceci Paranjothi said.
Compared to other years, StuCo's plan for 2018 is slightly different. A traditional event that has happened in the past is the annual bonfire, or FireFest, which gives students a chance to socialize and get excited for homecoming. It was continued this year on September 19. 
StuCo decided to change aspects of the event to adapt to our generation. Apart from years in the past, there was a focus as the bands that will be playing at the Fire Fest are Young Foolish, JS4REal, J Benk and the Stink, MAW, and Oxford Remedy played. 
"So we're [took] our tradition and [changed] it with time because we're moving into a new era… where not everybody's like 'sports!'," Williams said. "We all like different things and we want to appreciate everybody for their differences while keeping our traditions."
StuCo is a diverse group of people who bring many different ideas to the table. Having committees is a way they split up tasks they are assigned. The committees are assigned different events to work on during the school year, such as dances, Miles For Mental Health, and Spirit Week.
"We try to get different voices in the Student Council," Gathunguri said. "So somebody from the freshman, senior,  junior and sophomore class are in each committee so it's a diverse group of leaders."
Having people from different backgrounds and grades ensures all students can feel represented. StuCo is always trying to see how they can improve their inclusion of the student body as a whole. 
"We just look back from past years," junior Kate Flynn said. "We see what we can change and what worked."
Moving forward, the StuCo co-presidents have the simple goal of making the school a family and a more inclusive community.
"[Our goal is to] make everybody welcome and have events everybody can be a part of," Williams said.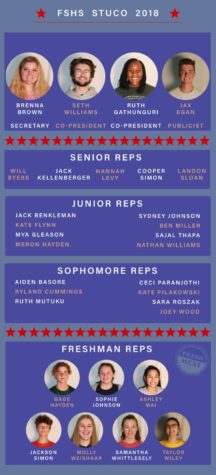 Design by Emma Nelson; Photos by Megan Gannaway