FEATURE: Seniors Make a Splash
Keith Popiel wins 2023 Water Warriors
On April 3 at dawn, the 2023 Water Warriors began and the competing seniors were after their first targets. Water Warriors, though not affiliated with Free State, consists of the participating seniors trying to shoot their weekly target with a water gun. If shot, they're out; this goes on until there is one competitor left.
Each contestant paid an entry fee of $5 adding up to the prize money. Three weeks after the start, Keith Popiel won against Matthew Marcum and Olivia Goeser for the prize of around $200. 
Popiel teamed up with Marcum to eliminate Goeser before shooting Marcum. 
Goeser was tricked into going into a house hoping to find her target, but her trust turned out to be what took her out of the game.
"[My strategy was] not trusting anyone which failed me in the end because then I was too trusting," Goeser said.
Popiel's strategy was to always be alert whenever going out and to avoid drawing attention to himself for three weeks, so when he won he was relieved to be able to go out worry free. 
"It was super relieving because I didn't have to worry about everywhere I went. It got stressful at the end," Popiel said.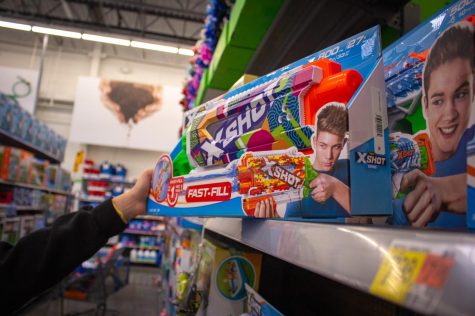 Although he ended up winning, he didn't think he had a chance until he made it past the first round when he started to take it more seriously.
"I wasn't going to lose, but… I wasn't confident I was going to end up winning," Popiel said.
Goeser's reaction to the results showed less relief.
"I've gone this far, I have to win now. And when I didn't, it was just really devastating," Goeser said.
Overall, the 2023 Water Warriors came to an eventful end and everyone can now go outside without being shot by a water gun.