This summer, the world famous doll, Barbie, made her debut on the big screen in her very own movie. The "Barbie" movie, written and directed by Greta Gerwig, dominated summer trends and reached box office highs since its release on July 21.
Since the movie's announcement in July 2019, it's estimated that the Barbie movie's team spent over 150 million dollars on marketing. Some of the money spent was on collaborations with business, some even found in Lawrence such as Cold Stone Creamery and Burger King.
According to English teacher Sophia Coen, the movie's large advertising budget was to make going to the Barbie movie an experience for people. It became a trend to dress up in pink clothing to attend the movie. Interactive displays were set up in theaters across the U.S. to engage attendees of all ages.
"The idea that it's something that you want to get a group of people together to go to dress up and take pictures and make it a whole thing," Coen said. "It's such a fun, kind of rare thing."
After dressing up and preparing for the movie with friends, sophomore Gabe Bennett went to the Barbie premiere in Burbank California, where he described the first 10 minutes of Barbie being the most fun he's ever had at the movies.
"We went in with this whole big crowd like we went to this theater and it was packed. Literally every seat was filled and there was an energy in the theater and everyone was laughing like, towards the end, people were crying and it was very electric," Bennett said.
After Barbie's release, it elicited a lot of opinions and discussion, especially about the movie's themes of feminism and womanhood. Senior Sophie Racy, felt as though ideas like this do not typically get to be explored in mainstream releases and was touched by the movie's message.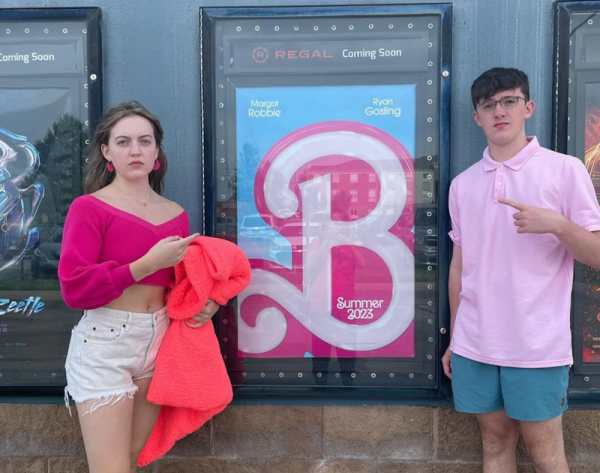 "I know that it was very inspiring for a lot of women, to kind of watch and follow along with Barbie, and her story and how she learned, what it's like in the real world and how that affects women," Racy said.
The conversation around Barbie only brought more attention to the movie. Junior Kaitlynn Sedich stated the reason she went to see the movie is because of the initial reactions to Barbie. The movie reached enough popularity to make $1.3 billion, making Greta Gerwig the first female director to have a film make over a billion dollars.
"Everybody should watch [Barbie] so that they can understand from the perspective of a woman, with the amazing turnout that the movie produced and it being directed by a woman about women for predominantly women. That's a phenomenal thing in and of itself," Sedich said.