Bringing on the Men
High school faculty compete, perform in annual Transformations Charity Gala as their drag alter egos
February 6, 2018
Following rapturous cheers, the curtains open, revealing only a single grand piano stage left. For a drag competition, it's a remarkably modest set. Immediately, assistant choral director Scott Ireland, known to the audience as "Angela Mansbury," advances onto the stage and seizes control of the instrument. As his final notes faded, the curtains descend as spectators rise out of their seats in a standing ovation.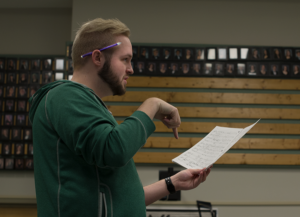 Ireland was a contestant in the Transformations Charity Gala on Saturday, January 27 at Liberty Hall, but he had been preparing for his performance since October.
"Ever since they opened it up to men," Ireland said. "I knew I had to apply."
Ireland, along with the nine other contestants, competed for a $10,000 donation to the winner's sponsored charity. Ireland chose to sponsor the Lawrence Schools Foundation.
"I wanted…something that would directly impact a lot of kids," Ireland said. "And that's the Lawrence Schools Foundation because they work directly with Lawrence Public Schools and fund a variety of things. From innovative teaching grants, to getting kids school supplies who don't have the means to do so."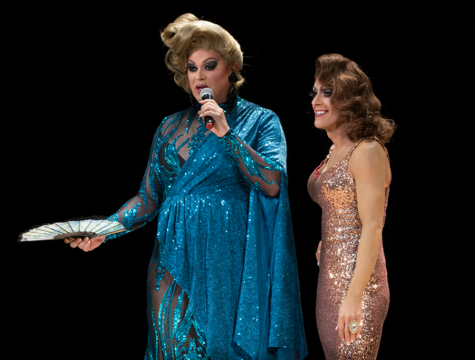 Debuting in 2011, Transformations started as a fundraiser to help founder and producer Brandon Eisman compete in the national Ms. Gay America drag pageant. The show's mad popularity emboldened Eisman to produce and direct the show every year since, opening to the public in its third year.
Brandon found inspiration for Transformations from the television show RuPaul's Drag U.
"They would take the very stereotypical lesbians," Eisman said. "The truck drivers, the butch lesbians, and tried to make them over for one night to work the runway."
Despite placing first in the Event category in Best of Lawrence 2017, Eisman continued to modify Transformations to keep audiences entertained.
"We're going back to our roots and to what drag is all about," Eisman said. "So we're bringing on ten men."
Transformations begins with talent performances from each contestant. Ireland played the piano and sang "Chandelier" by Sia while dressed in a glittering golden gown and chocolate brown wig. On top of rehearsing the song's notes and vocals, Ireland had to practice using piano pedals in heels.
"I've never walked in heels before so this is a very new thing," Ireland said. "But I watch enough RuPaul's Drag Race and America's Next Top Model to know how a runway walk should look."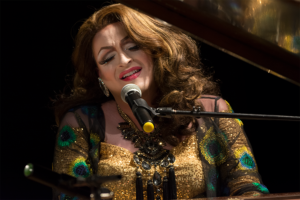 "
Building a drag queen from the ground up…is not easy"
— Tajma Stetson
After his triumphant performance, ripping off his oversized wig preparing for the next round, professional drag queen Tajma Stetson exclaimed how this performance was leagues better than the rehearsal. Stetson advised and coached Ireland for months before the performance, but described the beginning of the mentorship as treacherous.
"Building a drag queen from the ground up…is not easy," Stetson said. "But when someone is talented and pretty and has moxie, it's easier to do."
Lawrence Community Shelter sponsor and friend of Eisman, Bishop Seabury social studies teacher Bill Gollier had been encouraging Eisman to do a show with all men for several years and promised he'd be a contestant. Despite this, Gollier struggled with stage fright until moments before his performance.
"
Sitting in the audience and not helping [the Lawrence Community Shelter] when I could've… That'd be worse…"
— Bill Gollier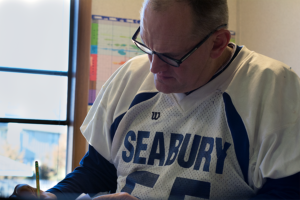 "As petrified as I am to do this," Gollier said. "Sitting in the audience and not helping [the Lawrence Community Shelter] when I could've… That'd be worse…I would always be kicking myself."
Once Gollier took the stage, however, his anxiety vanished as he lip-synced "Heartbreaker" by Pat Benatar with his son Grant Gollier on the drums and Bishop Seabury seniors Gabe Owings and Thomas DiZerega on the bass and guitar.
"It worked," Gollier said, immediately after his performance. "It was actually fun. My consultant told me that once I get [my outfit] on I'll feel better, and I did, I felt great."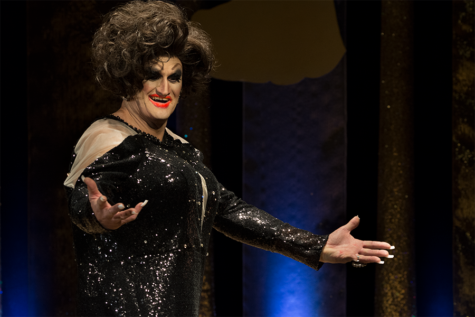 Because of their performance during the talent portion, as well as the evening gown showcase, both Ireland and Gollier placed in the top five, with Ireland taking third overall.
While he did not win, Gollier felt accomplished making the top five, because he got the chance to deliver a speech about the importance of the Lawrence Community Shelter, an organization which he has been supporting and volunteering with for over a decade.
Tyson Combs came in first, winning the $10,000 award for Baby Jay's Legacy of Hope, which provides financial and emotional support for families with a child diagnosed with cancer.
Also happy with his performance, Ireland cherishes performing in the pageant and all of the preparation before.
"I've already had this amazing experience of working with a drag queen," Ireland said. "Having them just completely transform me into this new person…embracing femininity."