Diversity vs Discrimination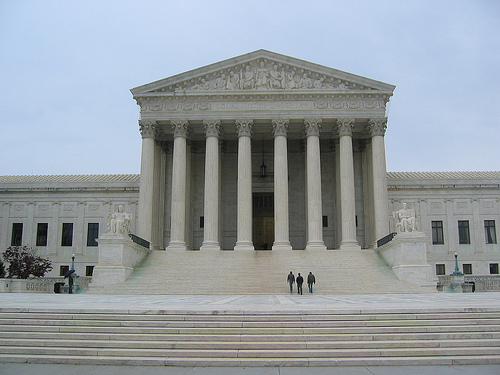 For most, college is the time of their lives. It's where they begin the path of being an adult. Many students have dream schools where they would like to see themselves pursuing a degree of their choice.
However, many students don't get the opportunity to attend their dream school because, some say, of their race.
Students receive rejection letters for a variety of reasons, ranging from grade competition to test scores, but according to Abigail Fisher, a University of Texas applicant, race can also contribute to why someone was denied admittance.
The Supreme Court started reviewing the case Fisher v. University of Texas on Oct. 10 of this year. Abigail Fisher has taken the university to court because she believes that she was denied admittance in 2008 because is white, and campus diversity is very important to UT.
Affirmative action is the center of Fisher v. University of Texas. Affirmative action describes actions which favor those who tend to suffer from discrimination, especially in relation to employment or education, and was first enacted during the civil rights movement.
The University of Texas has a Division of Diversity and Community Engagement (DDCE). The DDCE is committed to helping minority students who may not otherwise be able to access higher education.
According to U.S. News and Rankings, the diversity index at University of Texas is 0.69. This means that compared to other schools in the country, this school has more diversity than about 70 percent of other schools.
"Diversity is a strength of our country," counselor Bryan Duncan said. "It's a tricky subject because we want everyone to be successful, and to give everybody the opportunity to be successful."
The question of whether colleges should use race as consideration for admittance so that the campus can achieve diversity is a controversial topic. Many people have very strong opinions on whether they believe race can determine admittance or not.
"Diversity is so kids from small towns and big towns and states across the U.S. and even international students have the opportunity to learn together," teacher Kim Grinnell said, "about their chosen field of study, each other and share their life experiences."
Counselor Joel Frederick believes race should be a factor that colleges look at when determining admission.
"Colleges have many factors that they can consider and do consider," Frederick said. "So I don't see why race couldn't be one of them."
Senior Ajala Anavberokhai agrees.
"Any school can justify how they let people in, like their GPA or if they attend a lot of clubs," she said. "It's just another factor they put in there."
Supporters of affirmative action say that it allows disadvantaged or even geographically diverse students to attend the school of their dreams.
"If you are a kid from a small town in western Kansas, you might not even get considered for a [highly competitive] school like that if diversity was not a goal for college admission personnel," Grinnell said.
Although diversity is positive for college campuses, there can be a point in which the strive for diverse student populations can go too far, critics say. Duncan recognizes that both sides of the argument make valid points.
" [T]o help a certain group of people, you have to maybe hold back another group of people," Duncan said. "I think that's sometimes the nature of how some things work, and I think there's a fine line of where that balance is."
As the months go on, the Supreme Court will continue to discuss the topic and should come to a decision by late June of 2013.