Planning for Plan B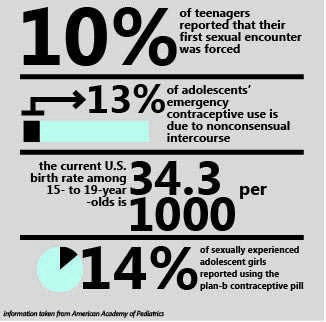 The morning-after pill isn't always taken the morning after—and the American Academy of Pediatricians (AAP) fears that in too many cases involving adolescents, it's not taken at all.
As part of an initiative to reduce teenage pregnancy, the AAP announced in November a policy statement aimed at educating health professionals about available methods of emergency contraception, which can significantly reduce a woman's chances of becoming pregnant after unprotected sexual intercourse.
The publication encourages pediatricians to counsel patients about a variety of emergency contraception options, including offering prescriptions for products like Plan B and Next Step before young women are sexually active so that the pills are easily available to them if needed. Women and men who are 17 years of age and older can purchase emergency contraception over-the-counter, but teenagers under the 17-year-old benchmark require prescriptions in most states.
"Studies have shown that adolescents are more likely to use emergency contraception if it has been prescribed in advance of need," the AAP wrote. "However, a majority of practicing pediatricians and pediatric residents do not routinely counsel patients about emergency contraception and have not prescribed it."
The statement cites a study in which teenagers reported that their most frequently used methods of contraception are condoms, withdrawal and the oral contraceptive pill, though the AAP states that within one year of relying on withdrawal, 27 percent of women using this method will experience an unintended pregnancy.
Junior Madeline Chestnut believes that at Free State, students usually understand the risks of sexual activity and make an effort to protect themselves.
"I think in general, if some people are going to make that decision, they are responsible and safe about it," Chestnut said. "I think the biggest fear of the teenage girl is to get pregnant."
Emergency contraception is not as effective as regular doses of birth control. According to the AAP, approximately two percent of women will still become pregnant after using emergency contraception, which can be used within 120 hours of unprotected intercourse but is more effective the sooner it is taken. Planned Parenthood states that less than one percent of women who take birth control pills every day as directed will experience a pregnancy.
The AAP believes that by pre-prescribing emergency contraception for adolescent girls, physicians can increase the likelihood that their patients will be able to access the pill if needed.
"The fear factor for me lies in misuse," health and pre-medicine teacher Jane Rock said.
Rock believes it is vital that teenagers be taught that emergency contraception is not simply another form of ongoing birth control and should only be used in emergency situations.
"Developmentally, would a 16-year-old understand emergency contraception as being an emergency use versus other means of contraception?" she questioned. "And that's the struggle, because if it's used multiple times, there's a risk to that individual."
Rock and the AAP share the hope that adolescents will become more knowledgeable about contraception in the near future.
Modern technology has widened the classroom of sexual education to include movies, magazines and social media alongside traditional health classes and patient-doctor communication. Senior Megan Haase-Divine said she frequently sees Plan B mentioned by the humorous blog Texts From Last Night (TFLN), which shares anonymous, sometimes scandalous texts submitted by users.
"I follow [TFLN] on Twitter, and they talk about Plan B all the time," Haase-Divine said. "I think that's become a lot more of a big thing."
The AAP hopes to bring pediatricians to the forefront of conversations about Plan B and other forms of emergency contraception, regardless of their personal religious or ethical beliefs.
"[P]ediatricians have a duty to inform their patients about relevant, legally available treatment options to which they object and have a moral obligation to refer patients to other physicians who will provide and educate about those services," the AAP wrote.
Teenagers can discuss methods of contraception confidentially with their doctors or other health professionals.