Intrapersonal Skills returns to traditional curriculum
With a new teacher at the head of the class, Intrapersonal Skills has changed in structure and style.
Senior Paige Bowers enrolled in IPS for the first time this semester. Even though Bowers was never in IPS under the former teacher, Jake Thibodeau, she has noticed a reaction from her classmates.
"I've heard a couple students say that they liked it last year, and now they're not as excited, because it's different to them," Bowers said.
Thibodeau's previous structure, which consisted almost entirely of games and activities to build relationships with special needs students, was normal for IPS students.
"It used to be really laid back in IPS," senior Caylee Irving said. "Now there's more standards and formalities in the classroom."
The new teacher, Jacob O'Byrne, says that he's following the curriculum of the class instead of Thibodeau's structure.
"We're going back to how it was at the very beginning, but we're also using these student guided ideas on how to get there," O'Byrne said. "It's still a lot of fun, it's just not as free operating as it was before."
"
A lot of [them] were really connected to Mr. Thibodeau, so it was weird on them for him to leave."
— Dorian Vance
O'Byrne, a social studies teacher, said he had no previous experience with IPS, and upon learning that he would be teaching it, has begun moving it back towards the foundation.
Junior Sydni Beeley believes Thibodeau was working with a loose curriculum, rather than O'Byrne, who is interpreting it in his own right.
Transitioning from Thibodeau's class to O'Byrne's has proved a challenge on many students, specifically the special needs students.
"Most of the [special needs students], once they get in their schedule, are fine with it," junior Dorian Vance said. "A lot of [them] were really connected to Mr. Thibodeau, so it was weird on them for him to leave."
Along with the change in structure, the physical classroom has changed as well. O'Byrne said the walls were painted over due to school policy, as well as the desks being parted from groups into singular units.
The newfound structure brought projects and activities that are more formal compared to Thibodeau's more casual ones.
The class is currently focusing on a project to call attention to special needs students.
"[We're] working towards the goals of a community impact project," O'Byrne said, "which is something for the community to raise awareness that we're here, we have students with special needs and they're going to be in the community."
The community impact project consists of work done by IPS students outside the school. They are helping nonprofit organizations and using other forms of public service in an attempt to change perceptions of the group.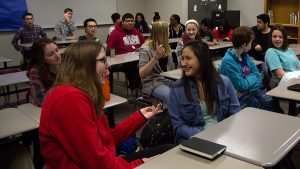 Various speech therapists and trained special educators are assisting O'Byrne in running the class.
Even with the additional help, the change has been abrupt on students enrolled in the class, especially in the middle of the school year.
"There's a lot that we liked last semester that we don't have this time," Beeley said, referring to Thibodeau's causal structure, "but going in a different direction might be positive in forming more of a structure for what we're supposed to be doing."