Spanish teacher selected for Bobs Award by Lawrence Schools Foundation
Spanish teacher Stuart Strecker was announced as the recipient of the 2017 Bobs Award on the morning of May 17 in front of a crowded gymnasium. The award is given every year by the Lawrence Schools Foundation and includes a $10,000 check to the recipient.
An anonymous group called "The Bobs" financially support the award; each member contributes an annual stipend that culminates in the $10,000 gift.
"
He's honestly one of the best teachers I've ever had."
— Ava Cormaney
"[The Bobs] wanted to find a way to support our educators in a different way," Lawrence Schools Foundation executive director Dena Johnston said. "They really wanted to give back to the teachers directly and allow them to have that support financially and do whatever they went with those dollars. We just want to thank them for the work they do."
The recipient is based on nominations from students, parents and school staff members across the school district. A committee reviews the nominations for about a week before deciding on one teacher according to Johnston.
Johnston recognized the passion in the letters nominating Strecker.
"Several students said…he creates a learning environment like no other," Johnston said. "[Students] talked about his passion for teaching and his sense of humour and his unconventional style."
Junior Ava Cormaney is enrolled in Strecker's Spanish 4 class.
"He's honestly one of the best teachers I've ever had…I feel like I've learned a ton in his class and he always has a positive attitude and he really cares about all of his students."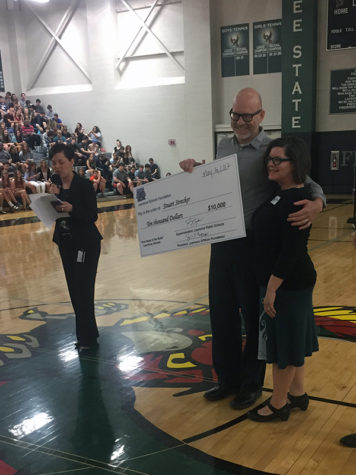 To Strecker, the award is an honor.
"It's affirmation that what I've been doing is, at least to some degree, working."
Strecker has taught at Free State since the school's founding, but stresses the importance of avoiding complacency.
"[This award] is definitely not an excuse to sit around and not try to get better," Strecker said. "But it [shows] that it pays off to stay somewhere and work hard for a long time."
In class, Strecker is always changing his teaching techniques and responding to his students' needs. Students are always actively involved in his class and consistently engaged and excited to learn Johnston said.
The Bobs Award is meant to recognize outstanding teachers like Strecker.
"[Teachers] are kind of the unsung heroes," Johnston said. "They are inside and outside of the classroom and the countless hours that they spend for our students. We want to keep our teachers in the district and keep them motivated and give them an opportunity to shine."
Strecker exemplifies this award through his commitment to his students and his passion for teaching according to Johnston.