DACA: A Recap in Perspective in 280 Words or Less
October 4, 2017
As President Donald Trump plans to end the Deferred Action for Childhood Arrivals program, also known as DACA, many young immigrants who have been here for a large majority of their life, but remain undocumented, fear deportation.
What is DACA?
DACA was created under former President Barack Obama to protect children brought here illegally by their parents from deportation and allows them to work, as many immigrants cannot.

It was created as part of the DREAM Act to allow such immigrants to be put on a path towards citizenship
Nationwide, 800,000 immigrants rely on DACA for safety. Many of those are students and contributing members to society.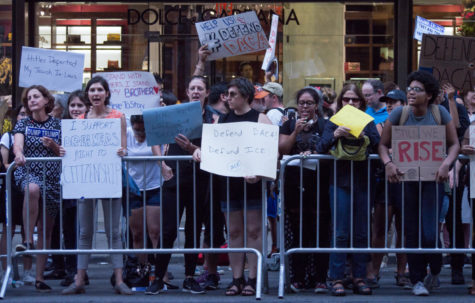 DACA In Our Schools
Some of the recipients go to school here, potentially in danger of deportation.
A Middle Eastern student, who chose to remain anonymous, believes Trump's decision on DACA creates a serious problem for immigrants who are at risk, unlike herself.
"It's not affecting my family because we're not undocumented," she said, "but I just don't think it's fair to all the other kids and the parents."
Becoming documented, however, is a challenge in itself, with those who are undocumented or are currently a DACA recipient having until October 5 to renew or receive DACA's benefits, which last five years.
"If it was affecting my family, I don't really know what I'd do, because there's not really anything I can do," she said. "It'd be really rough and I'd be stressed out."
As DACA is put before Congress, undocumented immigrants anticipate a decision in the next five months, many taking action by calling senators and other politicians alongside other Americans.
"It's just not acceptable, I don't think they should get rid of DACA," she said.