New Ascent club plans to construct wind turbine
Over the past summer, senior Ascent club president Sandhya Ravikumar had an idea to build a wind turbine.
The Ascent club is new to Free State this year. The club is an outreach program for underrepresented women and minorities in STEM fields according to Ravikumar.
Ravikumar and club sponsor Julie Schwarting applied and were selected for a $3,000 grant to fund the clubs project. They are currently working alongside Westar Energy to construct the turbine.
The club is constructing an outdoor charging station for the picnic tables which are located outside the commons.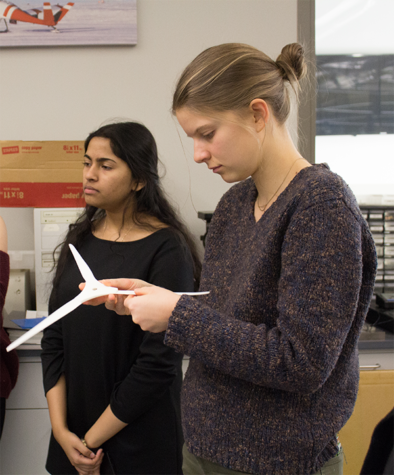 "It's going to be a good tool for teachers to use to teach students about renewable energy, and various engineering ideas," Ravikumar said.
Human activity is overloading the atmosphere with carbon dioxide and other global warming emissions, which trap heat, and steadily drive up the planet's temperature. Using renewable energy is beneficial for health, climate, and economy according to ucsusa.org.
After receiving the grant, the club began constructing the turbine but needed help. They turned to engineering teacher Michael Williams for assistance. After starting the project, members of the club learned certain aspects of engineering from the teacher.
"The engineering teacher here has taught us a lot about how turbines work and the various elements of building a turbine," Ravikumar said.
The Ascent club will continue building the wind turbine throughout the second semester and plans on finishing it by the end of the school year.