Head choir director Hilary Morton announces resignation
Head choir director Hilary Morton resigns after years of state success
After being head director of the school's choir program for 13 years, Hilary Morton has announced her resignation from the position after this school year.
Living in Lawrence her entire life, Morton received a double major in musical education and vocal performance, as well as a masters in choral pedagogy from the University of Kansas.
"I've lived in Lawrence my entire life, and I am grateful for the educators I've had, support from the community and the quirky nature of Lawrence," Morton said.
Known for being a strong leader and passionate educator, over the years Morton has built a choir program untopped by any other in the state. Various groups from the school have won a metal plaque and "1" rating at state competition every single year since she began teaching—the highest ranking a choir group can receive.
"I think we've been successful because of Ms. Morton's dedication," senior choir member Brynn Kelly said. "She speaks her mind and will always tell you the honest truth. She make sure that we do our work, and that we always strive for perfection. "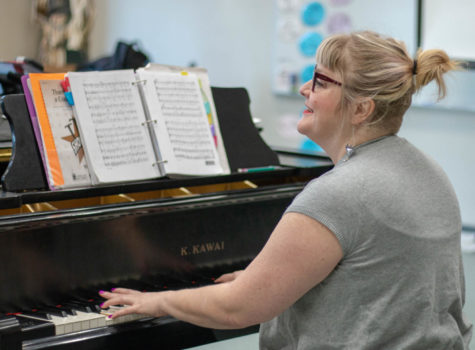 Not only expressing interests in their successes, Morton has also built a special bond with her students by showing concern for their well being, making a lasting impression on many.
"She tries to work with all of us to make sure we are the best we can be," senior Brynn Kelly said. "She cares very deeply about each and every one of us and shows that by putting us before herself. Her relationship is more casual than most teachers—if we need her, she is always there."
Despite her great success and strong relationship with students at the school, Morton feels a professional change is best at this stage in her career. She plans to move to downtown Kansas City and has been hired as Choral Director at Shawnee Mission North High School, where she will have the chance to build a new legacy among unfamiliar students and colleagues.
"For educators, starting in a new school is almost like starting over again. I'm ready for a new start," Morton said. "New challenges, the opportunity to change the way I teach, build a program and work in a bigger district with more colleagues and opportunities to collaborate."
After making her decision public to students on Friday, March 22, Morton left many devastated and disappointed by the thought of being directed by somebody new.
"Some were speechless and there were a lot of tears," Kelly said. "There were a lot of mixed emotions about her leaving. A lot of people were sad because we know her very personally. Some of the juniors are upset that they won't have that experience with her next year."
Associate director Scott Ireland, who has worked alongside Morton for two years, was also saddened to hear the news of her resignation. While the two have a successful track record as a teaching team, they have become close friends during their time together.
"She is a person who I have gained immense confidence from in myself and my teaching, and we both learn a lot from each other," Ireland said. "We teach so well together and have a great dynamic, so it will be sad to lose that."
Despite his disappointment, Ireland respects Morton's decision and feels a career change will be positive for her.
"When she told [her classes] that she was leaving and why, it was a great example of someone doing something important for their self care," Ireland said. "It's hard to do that, it's hard to let a lot of people down. But it's like an airplane—you need to put your oxygen mask on before helping others, and she is doing that now."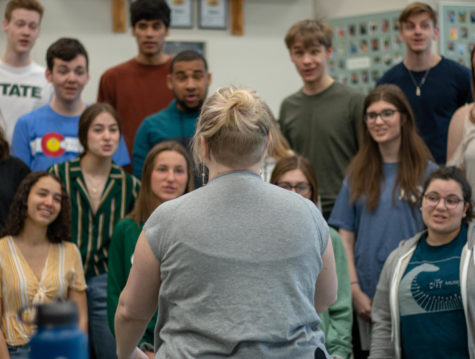 With a chance to become the new head director, Ireland hopes to fill Morton's position and build the program even further in her absence.
"My name is in the hat of people being considered for the position," Ireland said. "I would love to continue where she left off, but we'll see how it shakes out."
No matter who is chosen for the position, Morton believes the administration's strong appreciation for fine arts will continue the program's success even after she has left.
"Lawrence will always be a community where the fine arts are important, and our administration will see to it that whoever steps into this role will be awesome," Morton said. "I have no doubt that Free State will continue to be one of the finest high school choral programs in the country."
Aside from a wall full of plaques and countless high rankings, Morton has left her students with an understanding of how important dedication is not only in choir, but in anything they may choose to pursue.
"I think I will be remembered for being tough on my kids to get them to achieve successes larger than they imagined," Morton said. "Later in life, I hope they learned that the harder they worked for something, the more rewarding the pay-off. I'm so proud of these kids every single day, and I want them to feel the same pride for themselves."
Leave a Comment