USD 497 sues Juul for damages of vaping epidemic
Effectiveness of anti-vaping measures questioned as USD 497 joins lawsuit against Juul
"I don't think [the administration] outwardly cares about their students," one anonymous student said when describing their frustration with USD 497's anti-vaping initiatives. "I think they just care about reputation."
The student, who has used e-cigarettes since their freshman year, is describing a new wave of anti-vaping measures that punish students instead of addressing the reasons they pick up nicotine products in the first place. As vaping becomes more prevalent in high schools across the nation, the district has rolled out a stream of procedures aimed at preventing students from picking up nicotine products in the first place.
According to Legal Council and Executive Director of Human Resources David Cunningham, the new policies focus on education and prevention more than punishment.
"We are aware that punishment is not a solution to address what is an addictive behavior," Cunningham said. "We are working hard to educate students so they will not begin Juuling."
The controversy arrives as the board of education votes to sign on to a class-action lawsuit against Juul—one the most prominent e-cigarette companies. The lawsuit seeks to recover monetary damages that Cunningham explains the district has incurred as a result of nicotine devices in schools.
"The legal basis for this litigation is 'Public Nuisance,'" Cunningham said. "School districts will use this theory to recover past and future expenses associated with Juul use on campus."
Cunningham explained that school districts have used Public Nuisance to fight back against the original wave of cigarette use, as well as to recover money lost due to the opioid epidemic.
For science teacher Brad Greenwood, vaping is more than just a nuisance. He explained its prevalence has damaged productivity for both students who partake and even those who abstain.
"Students are wasting time, energy and their health trying to keep up with the latest fad," Greenwood said. "Unfortunately, it's also affecting students who don't vape.  They encounter a group of vaping students in the bathroom and leave because they either don't want to be associated with the vapers or feel intimidated by them."
Greenwood feels the solution to the epidemic is stricter enforcement and harsher punishments for students who are caught vaping on campus, but the anonymous student argues that punishment is the wrong direction to take.
"Everything that the school does focuses on what the students are doing wrong and not why they are doing it," the student said. "I know so many kids who have said they started vaping because school is really hard for them."
The School Resource Officer, Shelby Frazier, explained that imposing harsh punishments on nicotine-using students is impractical.
"We cannot put a tobacco case on every kid that has a vape pen," Frazier said. "That's just outrageous."
Instead, Frazier argued, the district needs to find new ways of dealing with vaping beyond punishment.
"The punishment piece is not working," Frazier said. "We need to take a different avenue. Maybe it's the education piece of it that we should try."
Effectiveness of anti-vaping measures questioned as USD 497 joins lawsuit against Juul
As its lawsuit against Juul is still in its early stages, Cunningham explained that the district does not know how much it could potentially make from the lawsuit. The legal firm Goza & Honnold L.L.C., Beasley, Allen, Crow, Wagstaff and Cartmell, LLP, and Gacovino, Lake and Associates, P.C. will represent USD 497.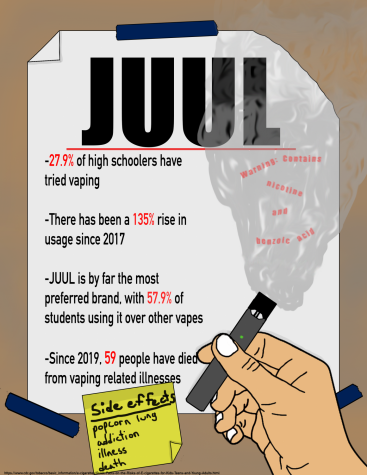 Leave a Comment