NEWS: The Great Burger Heist
Cafeteria reports 500 missing burgers
Over the course of the school year, the cafeteria has dealt with students smuggling burgers out of the cafeteria in their pockets.  It wasn't till early October that cafeteria manager Tracy Pobjoy realized the extent of what had been stolen, Pobjoy said she was shocked when she realized over 500 burgers were missing.
According to Pobjoy, the school was losing 40-70 burgers a day, resulting in the food service program losing $86.00 to $150.50 a day. At the rate burgers were being stolen, the school would lose $15,000 to $27,000 a school year. 
"This sort of loss makes it more difficult to improve meal quality, impacts staff hiring, and keeps the kitchen from being able to buy new supplies and equipment," Pobjoy said. 
This wasn't the first time the cafeteria has dealt with thievery. In the past, the cafeteria staff noticed students stealing drinks, so in response the staff moved the drinks up to the register.
Recently, the cafeteria staff has installed a ticket system to prevent students from stealing. Now students have to go through a line to get everything except for a main dish. Once they get to the register the cashier gives them a ticket, they take the ticket to the cashier by the door, who then gives them the sandwich they want. 
USD 497 Director of Nutrition and Wellness Julie Henry explained that since the cafeteria is losing so much money they will soon have to cut meals.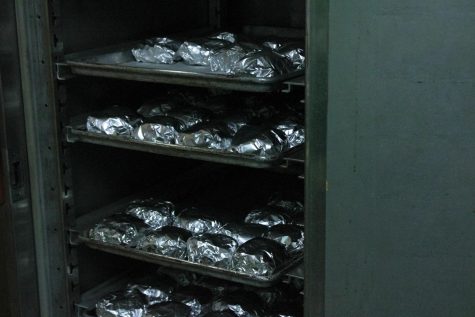 "Generally, the best meals are the most expensive to produce," Henry said.  "When we are losing money, those are going to be the first meals that get taken off the menu —which isn't what we want."
Henry said that because of the poor decisions of a few students, efficiency in the cafeteria has come to a halt, and it's ruining student's lunch experience. 
"Since we have had to put these extra measures into effect, it slows down the lunch line," Henry said. "This gives students less time to eat and socialize."
Although service in the cafeteria has slowed down due to new restrictions, all students are now able to have a burger at lunch.