Lack of enthusiasm frustrates editor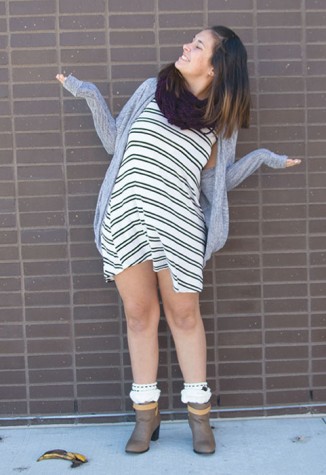 There is so much I can't stand about this school. I hate the negative attitude and general negative, bland opinion of so many people here. Yeah, we do great on standardized tests
and have a low drop out rate. The school is full of diverse and wonderful people. When the city showdown against LHS comes around, sure, we have a pretty good turn out. But I hate that no one cares about school spirit any other time and that the people who do care are looked down on. It bugs me how boring we are. We need to get hype.
I haven't always felt this strongly about school spirit. In middle school, the only games I went to were basketball, and I refused to cheer for anyone except the hotties. I thought the cheerleaders were foolish for trying to get an almost non-existent crowd of students
to repeat their silly chants. I had a rather pessimistic attitude, to be honest. I never even stepped into the football stands until eighth grade, when it became clear that knowing your school song and singing it with pride was cool.
Flash forward to sophomore year, and I now absolutely love my school. I'm on journalism staff writing stories for the yearbook that will be part of Free State's legacy. I'm involved in Hype, Inc. to try to get my friends to participate in the random spirited activities. This year I went to all but one of the football games and dressed up for the themes each time. Marching band got me so pumped, I always cheered as loud as I could (despite not knowing any terms other than 'touchdown').
I don't think we were ever loud enough for our team to even hear us. The weeks in between the games, I started getting mad whenever people talked about having something better to do with their Friday nights than to go to a game that everyone would leave at halftime.
Our inaudible student sections and pep-less pep rallies aren't just a disappointment to the kids who go all out, they're a disappointment to the school as a whole. When the visiting team's student section is larger and louder than ours, it gives us a bad reputation. It's a let down to StuCo and other groups that try so hard to make Free State fun. People put forth so much effort to make school enjoyable by adding spirit weeks, pep assemblies and marching band in the morning. When we don't appreciate or even acknowledge their work, they don't want to try anymore. From there, no one wants to try, and it's a downward spiral.
When did we start overlooking school spirit? Walking through the hallways during a spirit week, it might not even be clear what the theme for the day is. Such a small portion of the student population actually dresses up, and it's often a half-hearted attempt. Students would rather be comfortable, play it safe and wear regular clothes instead of having fun, letting loose and showing a little school pride by dressing like a fraternity brother or a tourist, or even just wearing a green shirt on Fridays. We have become hyper-aware of how other people see us, and it's getting in the way of our Firebird spirit. Instead, we should be working to leave a legacy that the classes after us will be jealous of and strive for.
School is about more than just homework and tests. Being a Firebird is all about school spirit; it's about linking arms as we sing the alma mater whether we've won or lost the game. It's about wearing our green even in the pouring rain. It's when you fit eight people you don't even know under a single blanket because you're all cheering for the same team. It's about so much more than trash talking the other team and giving our school a bad reputation. And heck yeah, we can do that. I'm pretty dang proud to be a Firebird. We all should be.
Leave a Comment