Firebird Fantasy: Week 3
Will's Starts:
Ty Montgomery: 23 points the first week, 15 points last week, this stud is a must-start. Matching up against the Bengals who have allowed the third most rushing yards to RBs this season.
Giorgio Tavecchio: This back-up kicker for the Raiders has scored 27 points in two weeks this season. He is 5 for 5 on field goals and 8 for 8 on extra points. This week's matchup is against the Redskins who have allowed 20 points to opposing kickers.
Will's Sits:
Demarco Murray: Look at the stats: Murray has only one more rushing attempt than Derrick Henry, Henry has rushed for about 50 more yards than Murray, and Henry has a rushing TD. Facing a tough Seahawks defense this week, I would sit Murray.
Tyler Eifert: Efiert has been dealing with a knee injury and back injury recently meaning he will not be able to play at 100%. Eifert also has yet to be utilized this season due to the struggling Bengals offensive line that requires Eifert to guard more than we would like to see.
Evan's Starts:
Jay Ajayi: Ajayi and the Dolphins are playing the horrendous Jets this week. The Dolphins will most likely get a big lead, which will lead to them turning to the run game. Last year in a game against the Jets, Ajayi rushed for 111 yards and a touchdown. I expect him to have a great game, especially with the amount of touches he should be getting.
C.J. Anderson: The Broncos RB has had a great season so far, with over 600 total yards and five total TDs. They're playing the Bills this week, who have a decent run defense, but Anderson's versatility will help him have a good game regardless. I expect Anderson to continue on his tear of good games this week, and until he has a bad game or a terrible matchup, he is a start.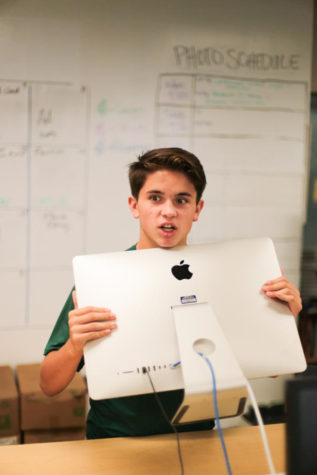 Evan's Sits:
Brandin Cooks: This week, the Pats are playing against the Texans, who have one of the league's top defenses. Cooks has somewhat underperformed so far, and I think he will continue this pattern against the Texans. Until he shows that he can fit in with Tom Brady and the rest of the offense, he probably will not have great performances.
Dalvin Cook: The stud rookie has been performing very well so far, but this week he is due for a down game. The Vikings are matched up against the Buccaneers, who have the best run defense in the entire league. I predict that Cook will be shut down by their run stoppers, especially with Case Keenum starting at QB. The Vikings will most likely try to run it a lot, but I don't think that this will be effective against such strong defense.
Last Week's Picks (ESPN Standard Scoring points):
Will's Correct:
Starts: Ty Montgomery (23)
Sits: Jordan Reed (4.8)
Will's Incorrect:
Starts: Jameis Winston (12.5)
Sits: Adam Vinatieri (8)
Evan's Correct:
Starts: N/A
Sits: Sam Bradford (0), Kenny Golladay (0.8)
Evan's Incorrect:
Starts: DeShone Kizer (1.9), Tarik Cohen (4.8)
Sits: N/A