ALBUM REVIEW: Midnights by Taylor Swift
Taylor Swift releases tenth studio album titled "Midnights"
After many long, sleepless nights of self-reflecting, music artist Taylor Swift dropped her tenth studio album on Oct. 21 titled "Midnights", at 12 a.m. EST. After back-to-back release of albums and rerecordings, this album shows Swift's experience with self-reflection surrounding childhood fame.
The album is similar to her sixth studio album "Reputation" in the sense of tempo, and her seventh studio album "Lover", sharing lyrics with themes of relationship-love, heartbreak, anger and yearning. 
The album begins strongly with "Lavender Haze", a pop song that talks about the honeymoon stage of relationships. The album imagistically begins the color lavender and transitions to a darker purple as the album progresses.
Track five, titled "You're On Your Own, Kid" tackles the feelings of childhood love surrounded by fame for Swift, and small town toxicity for many teenagers. She delivers the line, "I didn't choose this town, I dream of getting out / There's just one who could make me stay."
The yearning to leave your hometown and pressure on young relationships is easy for teenagers to understand, which makes this song one of the best on the album.
Contrarily, track nine "Bejeweled" is considered a skip. The track brings out a more modern side of electropop, focusing on synthesizer-fueled sounds with a radio friendly hook, putting the song on track to be the next overplayed song in the coming weeks.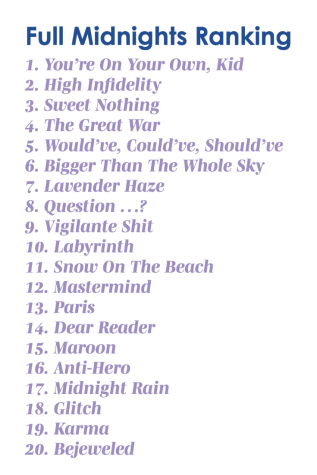 Three hours after the release of "Midnights" Swift dropped 7 more songs as her "Special, very chaotic surprise", titling this album "Midnights (3 a.m. Edition)". 
The songs included in this edition resume the romance genre from before while tying the melody from her fifth and eighth studio albums, "1989" and "Folklore".
Tracks like "Would've, Could've, Should've" and "Dear Reader" highlight the infamous bridges that Swift is known 'all too well' for constructing. The 3 a.m. Edition incorporates the iconic sadness many people search for in Swift's songs, which amplifies the overall feel of the album.
After 20 sleepless nights, Swift takes listeners through her self-reflection and guides them through the time we missed since her last studio album. The album's diversity in implementing a range of emotions, lyrical complexity, and musical design prove that Swift is a 'Mastermind' of songwriting for this generation.