Gymnastic Program Overcomes All Difficulties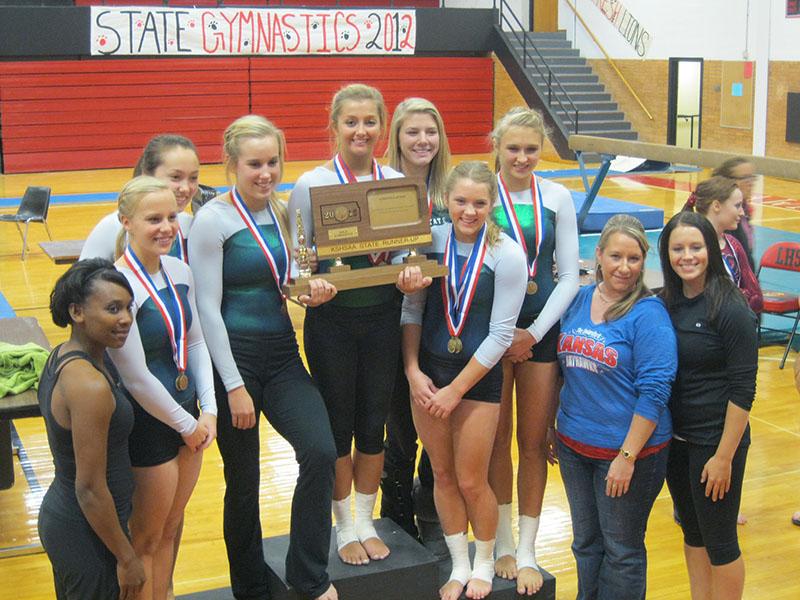 hannah reussner, reporter
January 24, 2013
Gymnastics is full of death-defying leaps, tangling twists and intricate routines on skinny beams.  Gymnasts throw themselves through the air and catapult at neck-breaking speeds.
So, it' s not a surprise that coaching two crosstown rival schools in such a dangerous sport is nerve-wracking.
Like any coach who tries to manage two teams, perfection is difficult to achieve.
"It was very tough coaching two rival teams because I want them all to do well," Coach Jessica  McMurray said. "Sometimes it was hard trying to be in two places at one time."
The coach and the gymnasts have the same thoughts. Training two schools at the same time is extremely difficult and sometimes it's hard for everyone to be satisfied.
"Well, the LHS team had some concerns about the coach," junior Lawrence High gymnast Jessie Abernathy said, "and we all felt she was favoring Free State, and things were happening that shouldn't happen."
According to Abernathy, McMurray was late to competitions, did not attend the end-of-the-season banquet and did not deliver LHS's letter pins in a timely fashion. Abernathy wrote a letter to the LHS athletic director about her concerns.
Free State gymnasts, however, think this conflict overblown and caused unnecessary drama for the whole gymnastics program. Many wish they could have talked with LHS gymnasts before the letter was written.
"I mean as seniors, it wasn't as a big deal… [to] us but I mean for the underclassmen… it's just tough," senior Free State gymnast Jacqueline Zaitz said.
Just as it is hard to coach both teams, it is also difficult to be the gymnasts on opposite sides.
"I think the LHS team forgets that they share [a coach] with FS and that the gymnastics program is so in jeopardy," Free State senior gymnast Annie Soderberg said.  "It's so close to being cancelled that I don't think they should start conflicts."
Soderberg and Zaitz didn't want to get involved in this issue because they didn't want to ruin the experience for anyone else.
But, just like every athlete, loyalty to their sport is important.
"I think we didn't want [Free State] to think that the gymnastics team was like stuck up and we can't deal with what we have," Zaitz said.
What next season brings remains to be seen, because according to McMurray, her contract was not renewed.
Whether or not the complaints of the LHS team had anything to do with it is unclear.
"…I went above and beyond for those girls and put in several extra hours of coaching… because I love the sport and I loved my teams," McMurray said.
Regardless of what the future holds for the gymnastic teams and for the coach, McMurray is proud of her girls and especially the LHS team for "working really hard throughout the season." Lawrence High finished sixth out of 12 at State, and Free State scored an all-time high on floor, receiving second place.