Bryan Duncan Resigns as Girls Basketball Coach
Looking to the 14 team photographs on his wall before answering the question, former girl's basketball coach Bryan Duncan thinks of the 14 teams he coached through every win and loss.
"We've had several outstanding teams in the last 14 years, and it wouldn't be fair to say there's a favorite one, because there really isn't," said Duncan.
While it was only recently that he made the decision to step down as the head coach of the team, he said the choice weighed heavily on him at the end of his past few seasons.
"The main reason I decided to leave was I have a four year old and a two year old at home, my wife works 50-60 hours a week, full time as a professor, and this is a time in my life that I need to be spending with my family," said Duncan. "I love coaching, and love working with all the athletes and players, but at this point, my passion and my focus is on my family."
He will remain attached to the sport through his work as the local director of the organization Mid America Youth Basketball. He said his duties lay mostly in the day-to-day operation of tournaments, keeping brackets updated, scheduling workers and fielding complaints.
He isn't looking to return to coaching high school sports any time soon, as he is focused on his children and home life.
"Down the road, if I was to get back into coaching, it'd probably be coaching my own kids at some point," said Duncan. "I'll be rooting for our team and Free State and the girls, but I'm definitely out of coaching for the foreseeable future."
Duncan made big improvements in his coaching career, and quickly as well.
"A turning point for me was in my [second] year, we went from winning four games to eight games, and it was a real big deal," said Duncan.
The team went 14-8 in Duncan's last season, and he remembered some sweeping changes he has made since his first years. He noted the switch to man-to-man defense, and all his changes were made to help the team play as whole, instead of relying on individual talent.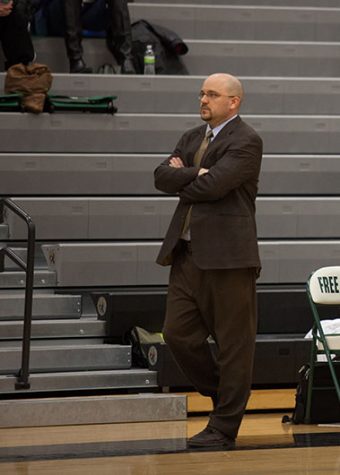 "When I first took over, I think we had four wins the first year, and… we developed that to where we've averaged about 12 wins, 13 wins over the last seven years," said Duncan. "I think it's one of the top five [programs] in the state. There's a strong nucleus of players coming back… but you don't ever want to look at it as a one-year thing. Lawrence is always going to be a great place to coach."
Duncan will not be on the committee to decide his replacement, but he is confident that the right decision will be made.
"I'd love to see a couple of our assistant coaches, specifically Coach [Phil] Mitchell, apply for it, and I think he would be an excellent fit, but that's certainly not my role," said Duncan. "I guess what I do know is that Free State girl's basketball is a great job and whoever is the replacement will be walking into a great situation at a great school. I would just say [to my replacement] enjoy the experience, work hard and keep building a program in a school that's a wonderful place to be."
Duncan will remember on-court success, off-court camaraderie and the people he interacted with.
"One of the cool things was, after I made the decision to retire, a lot of former players and former parents and former coaches through the years, getting a lot of emails and texts from those people that were really important," said Duncan. "The people is what makes it matter. Those are the things that you end up remembering the most, regardless of what job you're doing."
Leave a Comment