Physicality defines rivalry soccer game against LHS
The boys soccer team had high hopes going into the crosstown rivalry game against Lawrence High. They quickly went up 1-0 with a goal from Charlie Newsome, who had trouble describing the feeling it gave him.
"It's unexplainable," Newsome said. "The adrenaline rush that I get from the fans and everyone, it's amazing."
The Firebirds struggled early in the second half before Ashton Owen scored miraculously off of a blown save by LHS' keeper with less than two minutes remaining in regulation. Both teams went scoreless in the overtime periods, ending the game with a 2-2 tie.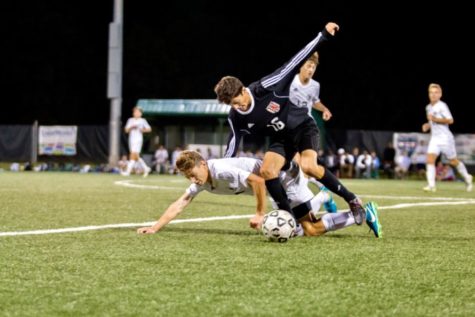 Disappointed by this result, the Firebirds felt as if they should have come away with a victory. The rivalry factor caused it to be very physical and everyone was playing with a lot of energy. The Firebirds weren't shying away from the physicality, and held their own against the Lions.
"We hit the weight room all summer," Newsome explained, "so it's not bad."
That same energy carried into the crowd, as fans from both sides provided the players with excitement.
"It was when both sides were going at it with the yelling and screaming," senior offensive wing Mburu Nganga said of his favorite moment.
While it wasn't a win, the senior Firebirds were still somewhat satisfied with the end result of a tie in what could be their last game against Lawrence High.
"We really didn't want to lose that game," senior midfielder Nick Howard said. "We didn't want to tie it either– but losing it would have been a real low blow."