Soccer Team Puts on a Show for Senior Night
For their senior night, the boys' soccer team matched up against Olathe West. Going against the new Olathe school, the Firebirds dominated the game and won 3-0, with senior Darik Dudley and juniors Ashton Owen and Everett Waechter scoring a goal apiece. All three goals were scored in the first half, started by Dudley's which had a beautiful spin.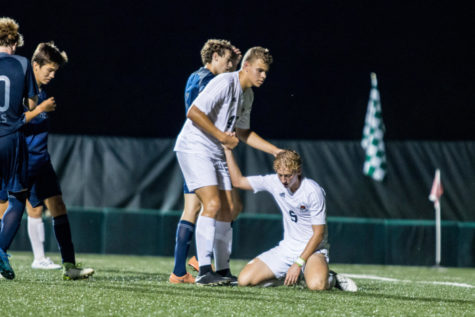 While the team still has a few games left to play before the postseason, this was their last home game, so the night ended with a recognition of the seniors, who tossed t-shirts into the crowd. Team captain and senior Charlie Newsome had a hard time putting the emotions of the night into words.
"I will be winning $25 because I did not cry," Newsome joked, "but honestly I am a little emotional. This was the first time my family's seen me play, and the soccer program's meant so much to me so it's crazy that it's coming to an end."
A few seniors who normally play JV got the chance to play for the varsity squad during the second half.
"It felt pretty good," Charlie Hamer said of getting his first varsity minutes.  "I liked it a lot."
The team now looks to finish out the regular season strong, and then turn their focus to postseason success. They have confidence in their ability to reach the highest level of success of any team in school history: a state championship.
"Our expectations are to play our hardest," senior goalie Thomas White explained, "but we definitely believe we can make it to the state championship and win. Even though our record might not reflect that, we've learned a lot throughout the season and I feel like we have as good a shot as most teams."