Game of the Week: Free State defeats Junction City, advances to quarterfinals
The Firebirds did not overlook Junction City in the second round on their way to the quarterfinals, winning 47-14. In the first quarter, the Firebird defense forced two turnovers.
Junior Jax Dineen finished with three touchdowns en route to the 47-14 win.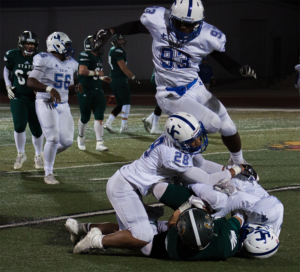 Brisa Salas-Pfaff
"Just do what we do." Dineen said. "Run, block, throw. Just keep the ball off the ground and then we knew we had it."
Playing an athletic Junction City team, Free State was impressive on both sides of the ball in the first half. Seniors Bo Miller and Kwinton Lassiter were big contributors on defense while Dineen and quarterback Gage Foster led the offense.
After leading 27-0 at halftime, Free State's offense stalled in the third quarter. Senior cornerback Gabe Del Valle the possibility of a Junction City comeback to rest with a long punt return late in the third quarter.
"I caught the ball and I just decided to take it back and trust my brothers that were gonna block for me and they did," Del Valle said. "I'm really proud of my teammates, they came through for me and the rest of the team. It's a great feeling and it'll stick with me forever."
Free State will play Derby in the quarterfinals this Friday at 7.