NEWS: Judy Erpelding Announces Resignation
Judy Erpelding resigns after 11 years as Director of Orchestras
After serving as the Director of Orchestras program for 11 years at the school, Judy Erpelding has announced her resignation, effective May 26. 
With this position being her first teaching job, she has grown the program from two ensembles to seven and has led ensembles to earn I ratings for a total of 15 performances at the KSHSAA State Large Group Festival. 
"The students who are in my classroom are extremely high achieving, and we have won so many awards together. We have this tradition of excellence that we want to continue," Erpelding said.
Not only has Erpelding's work been recognized by ratings and achievements, but by many students who say she has made significant contributions in their lives.
For Annah Steele, who is the only freshman to take part in Symphonic Orchestra, Erpelding is a bright light in her life; she has been a support system throughout her first year in high school. 
"She is someone that always puts the students first and she will make sacrifices and try so hard just to really please everyone and make it the best experience for everyone," Steele said. "She has made so many sacrifices and worked so hard this year for [the program] and for us. It shows you just how selfless she is."
While Erpelding initially informed students of her resignation during class, she additionally released the letter of resignation addressed to Free State Orchestra students and families.
In the letter, Erpelding addresses the financial difficulties USD 497 is facing. Through the letter, she calls out to parents in distress about the difficulties that are affecting the Performing Arts program district-wide.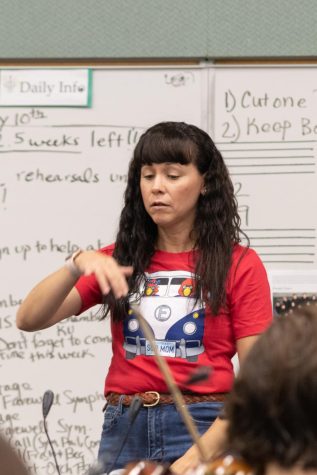 One of Erpelding's main concerns lies with the loss of numerous teachers, and the economic struggles USD 497 is facing. Erpelding expressed that teachers may begin to teach part-time at multiple schools across the district to fill empty roles–all these implementations she believes will eventually land back on students.
"Directors have very unique talents that [the district] specifically hired them for, and to ask them to be directors in multiple buildings is not an effective way to have successful programs. It will lead to even more burnout and more teachers resigning and they will have a hard time recruiting good teachers after that," Erpelding said. 
Furthermore in the letter, she gave gratitude and respect to the program. Despite the worries the teacher holds, she gives credit to the support she has felt in class, in the hallways, on social media and from school administration after this consequential decision. 
After expressing her feelings in the letter of resignation, she hopes to gain one thing out of this: to educate the public and help convince the leadership in the district to change how they are approaching the staffing changes in the Fine Arts department.
Next year, Erpelding will take a new teaching job at a different school but has chosen to not disclose further information yet. She said she hopes to keep the attention of her resignation off of her and continue to focus on the seniors and the program that she loves and holds dearly to her heart.
"The students at Free State and my orchestra program have inspired me every day to bring my A game because they bring theirs. Every time I set the bar, they always exceed it by a long shot so I will miss having eager students who want to learn, who are creative, artistic and just wonderful people to be around every day," Erpelding said.