Game of the Week: Girls Basketball finishes eighth in home tournament
Hayden, Robinson
January 30, 2018
The girls varsity basketball team played their best quarter of the season in their 64-56 loss to Olathe West in the seventh place game of the Firebird Winter Classic on Saturday. The Firebirds went on a 17-6 run in the last four minutes of the game, but it came just a little too late.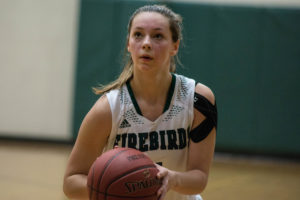 Throughout the first three quarters, the Firebirds had problems slowing down the Owls offense and preventing easy layups. It wasn't until the fourth quarter when Free State started scoring in the paint.
"We continue to give good effort and play hard. I don't think the girls have quit or developed a bad attitude," Ted Juneau said.
"
We always feel like we have a shot to come back"
— Shannon Clarke
Coming out of a timeout and looking to spark a comeback, Head Coach Ted Juneau decided to press the Owls. The full court press was effective and rattled the Owls, causing turnovers and quick scores for the Firebirds.
"I was pleased with the efforts the team gave throughout the game," Juneau said. "The fourth quarter was our best quarter of the season."
Freshman Shannon Clarke led the Firebirds in scoring with 13 points, three of those coming from an and-one layup with 20 seconds left to trim the lead to 7. On the ensuing possession, junior Sam Lawrence got a steal and layup to bring the Firebirds within 5, the smallest deficit since the first half.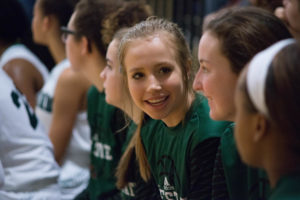 "We always feel like we have a shot to come back and I was proud of everyone because we really wanted to win," Clarke said.
Despite falling to 1-11 on the season and finishing last in the tournament, the Firebirds are taking a positive attitude into their next game.
"We're right there every game," Clarke said. "I think having a taste of that one win, we're striving to that and we want that again."