Game of the Week: Firebirds play for Grit in 92-58 win over Olathe West
Playing on a night devoted to Grit Henderson, the four-month old son of teachers Laura and Nolan Henderson who is battling cancer, the varsity basketball team did their best to honor the Henderson family with a 92-58 victory over Olathe West.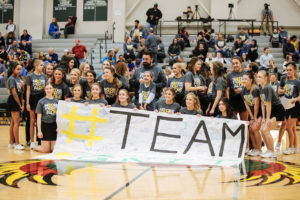 Emma Pravecek
Players and fans wore gold and purchased T-shirts to support the family. At halftime, Nolan Henderson received a $4,000 check from the Free State spirit squad, as Laura and Grit watched the ceremony from the St. Jude's Children's Research Hospital in Memphis via FaceTime.
"It was really cool to play for the Henderson family because it was for a great cause," senior team captain Simon McCaffrey said. "It made us play better."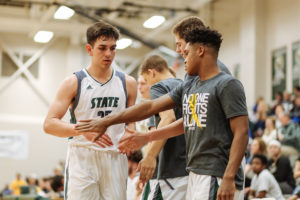 Emma Pravecek
"
That was most definitely the best offensive game we've played all year"
— Zach McDermott
On the court, the Firebirds put on a show, consistently hitting shots from all over the floor en route to a season-high 92 points. The Firebirds came out firing from the tip, connecting on 12 of their first 14 three-point attempts.
"That was most definitely the best offensive game we've played all year," guard Zach McDermott said. "Everyone was hitting shots and playing unselfish, and everything fell our way."
The selflessness of the Firebirds was apparent, as they passed up open shots to teammates who had even better looks.
"Everyone wants the team to score rather than score themselves,' McDermott said. "So everyone moved the ball."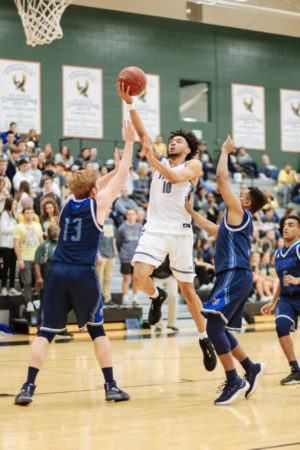 Emma Pravecek
Future KU walk-on and senior Garrett Luinstra led the team in scoring with 19 points. Right behind him was McDermott, who scored 18 points. Luinstra and McDermott each shot an efficient 7 of 9 from the field with a combined 7 three-pointers.
Heading into the fourth quarter, the Firebirds were doubling the Owls' score, 84-42. It was time to let the subs get a crack at the fun. Seniors Charlie Newsome and Avant Edwards made a few tough shots, provoking the crowd and bench to go crazy.
"Our goal every game is to be able to get them in and when they got in they scored," McDermott said. "That was a lot of fun to watch."