Boys basketball falls 60-57 to Shawnee Mission West
Down by as much as 12 in the fourth quarter, Free State rallied late, but it was not enough as the Firebirds fell to Shawnee Mission West, 60-57, on senior night.
The Vikings switched between zone and man defense throughout the game and their strategy appeared to do its part, occasionally confusing the Firebirds and forcing turnovers. On the offensive end, not much could be done to stop the Vikings' shot-making ability, which came as a bit of a surprise.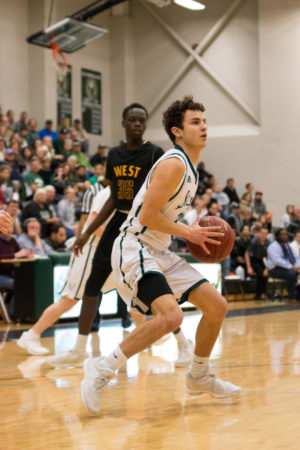 "You don't want to overlook any team but you have to give them credit," senior guard Jared Hicks said. "They did hit a lot of shots and came on our home court and played hard."
Ranked as the No. 2 team in the state, the Firebirds showed why in the fourth quarter. Senior guard Garrett Luinstra took command of the game, hitting difficult shots and scoring 15 points during a 19-8 run.
With less than three minutes remaining, Luinstra drained a deep pull up 3-pointer to cut the point deficit to two. Later, Luinstra made another big play, corralling a rebound off his own shot and finding Reece White-Downing for a layup.
"He helped bring us back in the game, hit some big shots, made some big plays, and gave us a shot to tie the game," Hicks said. "When Garrett's on he helps everyone around him so hopefully he can keep doing that in the next couple weeks."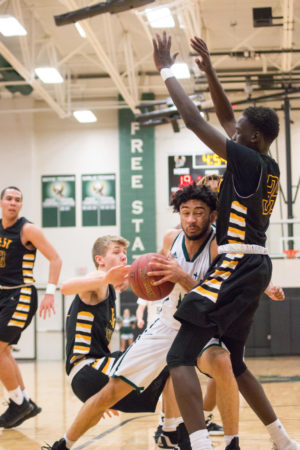 In the final eight seconds, the Firebirds had two open 3-point looks to tie the game and send it into overtime, but both did not connect.
"Shots weren't falling, and we had some mental lapses during the game," Hicks said. "There were times where we didn't play well, but we didn't get stops at those times."
Free State started all seniors for senior night, which meant a start for Hicks, who replaced injured senior guard Zach McDermott.
"Playing in the program for four years, it's always nice to get a start," Hicks said. "Playing on senior night with all the other seniors I've played with the last four years was pretty cool."