Firebirds outlast Wichita South 42-39 in first round of State tournament
"We needed to move the ball more," senior Jalan Robinson said. "We started off pretty lazy and slow so we tried to speed it up."
The Firebird basketball team survived Wichita South in the first round of the Class 6A state tournament Thursday, 42-39.
After losing in the state semifinals last season, coach Sam Stroh and his team headed into Koch Arena Thursday as the number two seed.
For the better part of the first quarter, Free State's offense failed to gain any momentum, going scoreless until senior Garrett Luinstra shot the team out of its funk. Luinstra scored all 7 first quarter points for the Firebirds.
Free State's offense relied on Luinstra in the first, but the team as a whole played physical defense on the other end of the court, which included guarding the Titan's 6'8'' center, Remy Lemovou.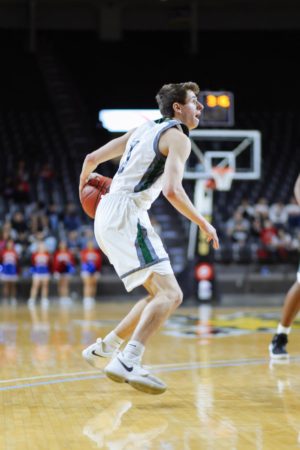 After junior Noah Butler tied it up in the 2nd quarter, Garrett Luinstra hit a corner three pointer to give the Firebirds a 16-13 lead. Everyone got involved on offense in the second quarter. Robinson and Butler finished strong inside on various occasions, and senior Reece Downing splashed in a three pointer with 10 seconds remaining in the half to give Free State momentum heading into halftime.
"[At the beginning of the game] we tried to just have the offense go through a couple of people, instead of moving the ball," Robinson said.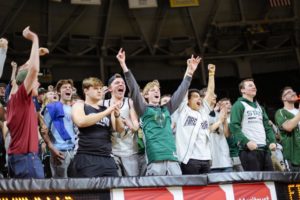 The Firebirds came out of the half noticeably more focused and started the second half much better than they did the first. Better ball movement on offense and more defensive intensity led to an increased level of play, leading to a competitive quarter.
"I think we just had to get more loose during the game, and get used to the court," senior Simon McCaffrey said. "By the end of the game we got a little more loose, hopefully even more loose tomorrow."
With nine seconds left in the game, Simon McCaffrey was sent to the free throw line, clinging to a one point lead.
"I just knew the season was on the line and didn't want the season to end so I was just gonna cash it," McCaffrey said.
McCaffrey stuck to his word and made both shots, which ended up being the last points of the game, Free State winning 42-39.
While Free State held their lead for the entirety of the second half, Wichita South kept it close until the very end, mostly due to the outstanding play of Lemovou.
Lemovou finished with 11 points, 15 rebounds, 6 blocks, and 2 steals. Robinson was faced with defending Lemovou for the majority of the game. When asked how he felt he did against Lemovou, Robinson smiled and laughed.
"Easy matchup," Robinson said. "Zero problems,"
The Firebirds play in the semifinals today at 4:45 p.m. in Koch Arena.