Game of the Week: Girls varsity soccer wins season opener 4-2
"These past three or four weeks of practice we've been working on attacking," senior Sydni Beeley said. "And that's what we did,"
In the first game of the season for the Free State girls soccer team versus Shawnee Heights, an early goal from senior Sophia Bone was all it took to get the momentum going. The Firebirds took a 3-0 lead into halftime and were victorious at home, winning 4-2.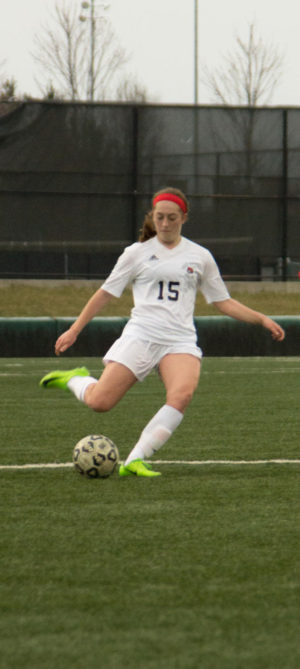 Nick Burket
Beeley and junior Emma Yackley took control of the game from the start, dominating the game's pace and snuffing out most Shawnee Heights attacks. In the ninth minute, Yackley launched an impressive run before passing it off to Bone for the first goal of the season.
"It was good to have people in the box," Yackley said. "We needed off the ball runs."
Another goal by Bone and one from senior Maya Hodison, coupled with the Firebird's stifling defense from the back line, allowed Free State to go into halftime with a 3-0 lead.
"We wanted to possess the ball more, heading into the half with a 3 goal lead," Beeley said.
The cracks seemingly started to form in the second half, as Shawnee Heights was able to knock two goals in, but the midfielders again took command of the pitch. Sophomore Kiara Jadlow also made an acrobatic save at the goalkeeper position to allow Free State to hold onto their lead. A late goal off a PK by Beeley put any idea of a comeback to rest.
"We need to work on keeping possession under pressure, because we didn't quite accomplish that this game," Beeley said. "So that will definitely be something we work on in practice this week"
The girls play next on Thursday, March 29 at Lansing High School.