Game of the Week: Firebird baseball takes Olathe East 9-4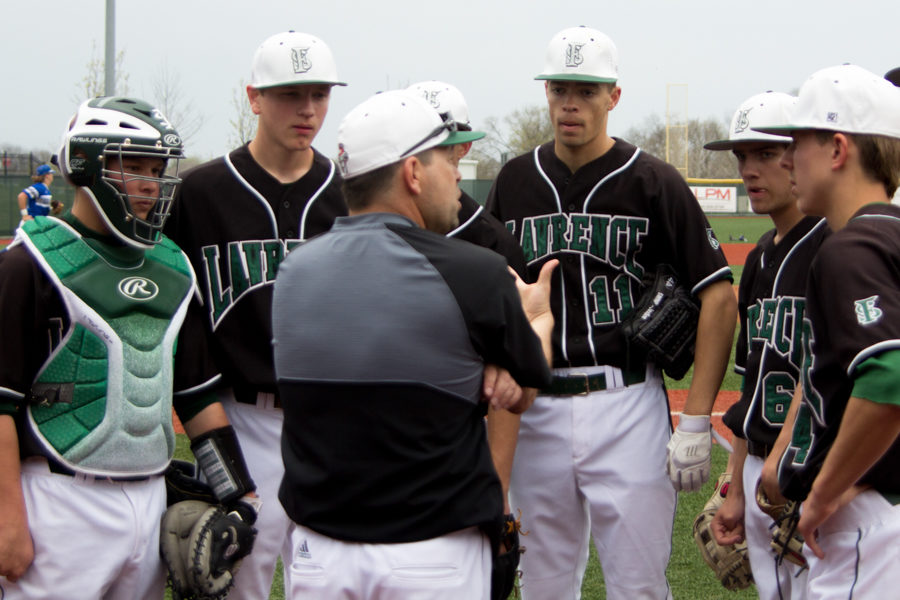 Jax Egan, Sports Reporter
April 27, 2018
It took until the second time through the lineup for Free State Varsity baseball to gain momentum, but once they did, they capitalized. A seven run fourth inning propelled the Firebirds to a 9-4 win versus Olathe West on Tuesday.
Junior Ethan Bradford started the game on the mound and made easy work of the Owls through the first two innings. Bradford took advantage of the Owls' aggressive nature at the plate and kept his pitch count low.
"I needed to keep the ball low, and throw strikes. Not let them get ahead in the count," Bradford said.
In the top of the third, however, a line drive down the right field line turned into an inside-the-park home run for Olathe West after an error by third baseman Peyton Sparks. Two runs scored and another got in later in the inning after a line drive got past shortstop Jake Rittman.
"
No matter what it is, even if it's Xbox, he competes."
— Outfielder Jaxson Webb
In the bottom of the fourth, the Firebirds came back with a vengeance. A bases loaded double by designated hitter Quinton Graham scored three runs to tie the game. Graham was 3-for-3 on the day with 3 RBIs.
"I was more just looking for his slider, not his fastball… and I got it," Graham said.
But the inning was far from over. Two more big hits, a two run triple by outfielder Jaxson Webb and a two run double by Rittman allowed the Firebirds to run away with a 7-3 lead. Webb, who was "just trying to push something to the right side," drove in the runs that gave the Firebirds the lead.
By the end of the fourth inning, the Firebirds had batted all the way around the lineup and put up seven runs.
Bradford stayed on the mound and was able to control the game, limiting big hits even as the Olathe West lineup saw his arsenal of pitches for the second and third time that game. He pitched six full innings and had 9 strikeouts before Rittman came in to close the game out. The Firebirds won by a score of 9-4.
"[Bradford] has a competitive fire to him, no matter what it is, even if it's Xbox," Webb said. "He competes."