A Coach's Coach: The Life and Legacy of Bob Lisher
Past players and colleagues reflect on Lisher's coaching career following his retirement
It's not common for one person to stay at one job for 22 consecutive years.
It's even less common for one person to live in one place their entire life. But don't tell Bob Lisher that.
After a historic 37-year coaching career in the state of Kansas, 22 of them at Free State, the Firebird's head football coach retired in an emotional post game huddle after the team's playoff loss to Manhattan High School during the quarterfinal playoff on November 9.
2010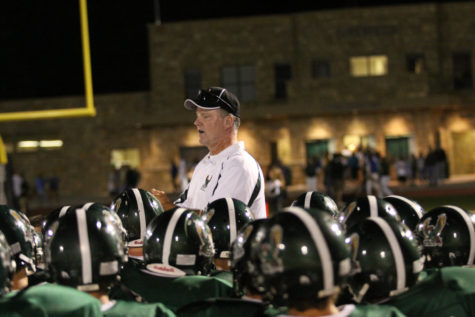 Long before that, Lisher's high school coaching career began on the south-side of 15th Street, where he was the defensive coordinator for his alma mater, Lawrence High School. Lisher both played and coached under legendary Kansas high school football coach Bill Freeman.
"He was a very demanding head coach, not only of his players but also his assistant coaches," Lisher said. "He was just as likely to get on an assistant during practice as he was a player, because he wanted the best out of everybody."
Freeman coached at Lawrence from 1974-1990, leading the Lions to five state championships in football and finishing with a 134-38 coaching record. Freeman died in 2015. 
Freeman was the first head coach Lisher worked under, and influenced his coaching style heavily. He was known by former players as a tough motivator and for being meticulous in his film study, two traits Lisher picked up on.
Lance Flachsbarth was a defensive end and quarterback from 1984-1988 at Lawrence High while Lisher served as an assistant. He went on to play defensive line at the University of Kansas after his high school career concluded.
"Lisher was the youngest member on the staff," Flachsbarth said. "He had a lot of seasoned older, veteran coaches, so he got to learn a lot. He's always been passionate about the game."
Anna Riley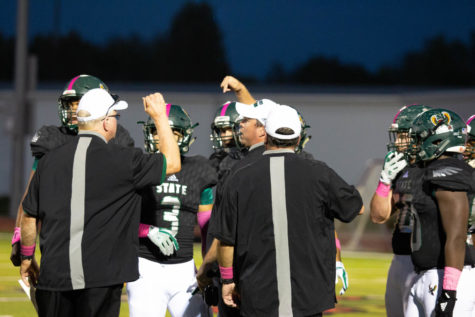 Lisher was involved in seven state championships as an assistant at Lawrence High, but still had his eye on a head coaching job. In 1994, he accepted the head job at Blue Valley North, making the 45-minute commute from Lawrence to Overland Park every day for three years.
"When I took the job at BV North, it was to get head coaching experience because I wanted to come back to Lawrence High," Lisher said. "I knew that as an assistant coach I wouldn't be getting the job at Lawrence High."
Lisher began to rebuild the North football program, going 2-7 his first season and then making the playoffs in his third and final season with the Mustangs. It was there Lisher began to implement his coaching philosophies he would later go on to perfect.
"My goal was to be a coach that people wanted to play for, that was fair," Lisher said. "I wanted my coaches to want to coach and do a good job. I wanted my coaches to enjoy coming to work every day and not dread coming to work."
In 1997, Free State opened and Lisher got his chance to return to Lawrence. He was back coaching in his hometown, this time with the title of a head coach.
It's never easy to build a new program from scratch and according to Free State's first athletic director Steve Grant, Lisher was well aware of the challenges.
"It was tough, because when we opened, LHS had been so good in football," Grant said. "[Our first year] we only had three seniors on the football team, none of which had played at Lawrence High, we were very young."
Dannielle Stringer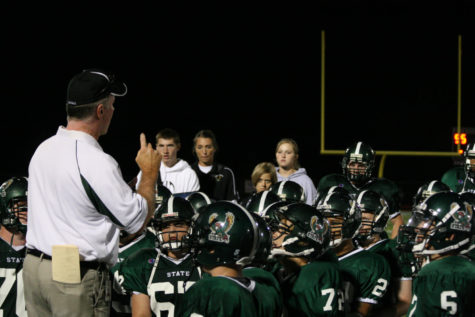 The team struggled their first season, as expected, winning only the final game of the year. But Lisher got the break he needed in the first game of his second season.
"The very first game of our second year we played Olathe North, who had won 20 games in a row, and three state championships," Grant said. "We just beat the heck out of them, and that was such a neat feeling. The kids rushed the field, it was neat to see the whole school come together like that."
Grant said Lisher's role in uniting the newly founded school wasn't limited to the football field. He was one of the leaders in the building promoting school spirit and getting people to come out to games. One way he did this was introducing a program to increase faculty involvement.
"His second or third year he did something called Coach of the Week," Grant said. "A teacher would take a week where they went to all the practices with the team, they went to the team dinners, the team breakfast, they rode the bus to the game, they were on the sidelines and they got to give a little pep talk during the week. It was a way he wanted to get everyone involved, and it was very well received by the teachers."
Throughout his career, Lisher always prided himself on being a coach's coach. Someone who not only his players enjoyed playing for, but his coaches enjoyed being around.
2014
"I wanted to be a motivator but I wanted to do it differently than Freeman did because sometimes it wasn't all fun and games going to practice," Lisher said. "For the most part that's always been the case with me. We work extremely hard, we put in a lot of time, but we also have a lot of fun when we do it."
As head coach for 22 years at Free State, Lisher had the opportunity to send a number of his assistants on to become head coaches, similar to what Coach Freeman did for him, which he takes great pride in.
"It's exciting to have coaches that have the desire to be head coaches." Lisher said. "I want people on my staff to want to be head coaches for obvious reasons. If they want to be a head coach, then they're going to do everything in their power to be a great assistant coach. That's who you want on your staff, people that want to be head football coaches."
In 2015, Lisher sent long-time defensive coordinator Brett Oberzan onto the head coaching job at Shawnee Mission South.
"He gave me a lot of reign [as an assistant coach] and he trusted me quite a bit," Oberzan said. "You earn that trust working with him, and once you earn it, he puts a lot of trust in what you do and it's great to work with him."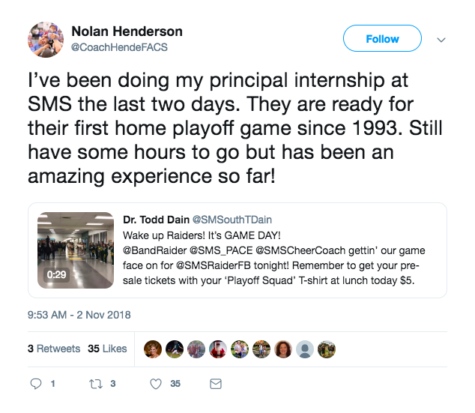 Oberzan took the historically unsuccessful South program to the post season this year, when they hosted their first home playoff game since 1993.
"A lot of the philosophies I brought here to South, to turn this around," Oberzan said. "We did at Free State [and] I still do here today. So he had a huge impact on me as far as coaching."
Lisher's trust and personal connection wasn't limited to just his fellow coaches. Throughout the years, he established great relationships with former players, a few of which went to play on at the college level.
Joe Dineen Jr. was perhaps the best example of this. Dineen was a three-star prospect for the Firebirds and started at quarterback and safety. He went to play at the University of Kansas and become one of the best players in the history of Kansas Football as a linebacker. Dineen was recently selected as a second team AP All-American, and is the leader in tackles-for-loss in Jayhawk history.
Joe Dineen plays for Free State (2014)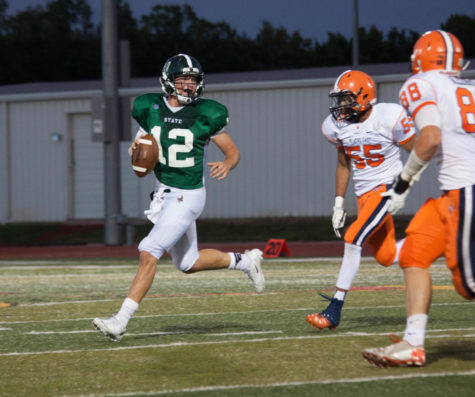 "Obviously coming up through high school I had a pretty good relationship with him," Dineen said. "He was my head coach. He didn't treat me any better than any of the other players. He held me to the same standard as anyone else."
Dineen re-emphasized Lisher had a certain expectation to which he held all of his players, no matter who they were.
"He has a standard and doesn't really fall below that," Dineen said. "I remember practices when I was [at Free State], and I'd throw a bad pass to Blake [Winslow] or Keith [Loneker]. He would make us run around the goalposts. He was a hardass, but it really made us better."
An impressive number of former Free State players made an impact at the college level last season, including Dineen, Keith Loneker, Bryce Torneden, Scott Frantz and Fred Wyatt. Lisher maintains regular communication with all of them about their college performances.
Despite the many games he has won at Free State, the lasting relationships he's made over the years remain just as important.
"I've made a lot of relationships around here," Lisher said. "The principals, athletic directors, teachers, the people who run the loud speaker or the chains, it all starts with my assistant coaches. There's a lot of very supportive people in this school."
As far as what's next for him, Lisher remains unsure, but he knows he loves coaching football.
Riley Boehle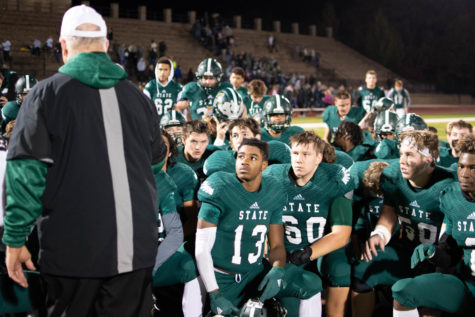 "It's not like I need to find a job, but my wife's gonna make me get one," Lisher said. "I could be an assistant coach. I could be a positional coach at an NAIA school. I just want to coach football."
No matter what Bob Lisher decides to do next, one thing is certain; he will make a positive impact on the people around him.
"He's made relationships with guys that will last forever," Dineen said. "Just as the man he is, he's impacted a lot of our lives positively."
View Comments (3)