Firebirds suffer season-ending loss in State basketball tournament
Free State falls to Washburn Rural in Wichita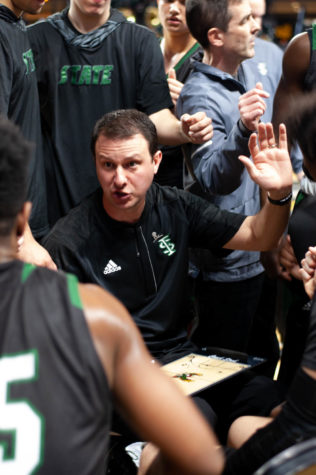 While maybe not as easily as in previous seasons, for the third consecutive year Coach Sam Stroh took his Firebirds to the state tournament, this time as the eighth seed.
After a seemingly endless defensive battle, Washburn Rural High School finally prevailed over the Firebirds in overtime, 45-54, ending the season.
It was clear early on this would be defensive game. Rural played technically sound and the Firebirds struggled to penetrate their defense throughout. Possession after possession, Rural forced switches on defense. But the Firebirds were able to hang with them, forcing contested layups. One of the main contributors on defense was junior Alyus Wisdom.
"They're a great team," Wisdom said "We tried to get inside and when we scored, we did; and when we didn't, we didn't."
While the Firebirds were able to force tough possessions, the Jr. Blues made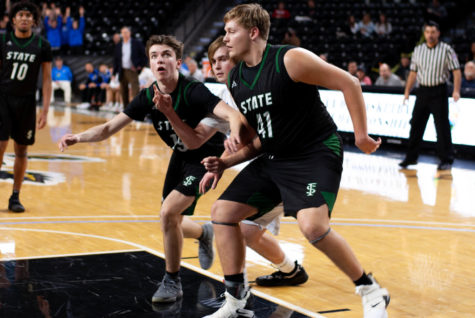 numerous contested layups and hit a high percentage of their free throws after drawing fouls.
"We were playing tough," junior Ethan Lincoln said. "This was the number one seed in the state for a reason."
After a collection of lead changes, Free State went into halftime down by one: 18-19. Stroh then encouraged his players to maintain their strategy.
"Stroh said [at halftime] 'We're us, let's get in the paint and not force any threes, let's do what we do,'" Wisdom said.
Free State came out strong in the second half. Junior D.K. Middleton heated up and took on the scoring burden for the team, but no one could get hot enough from outside to run away with the game.
"We have trouble shooting outside," Wisdom said. "They're a tough team."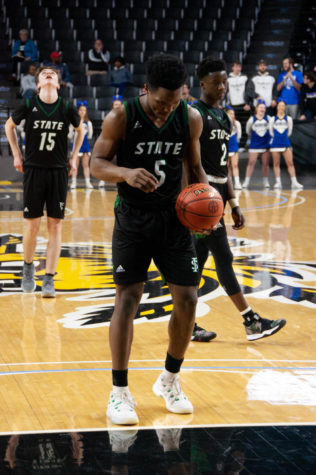 Free throws were a struggle all game for Free State, certainly costing them the game in the end. In the second half, senior Noah Butler tipped in a missed Middleton free throw before forcing a turnover and drawing a foul. This was a major shift in momentum in favor of Free State.
Midway through the fourth quarter, Middleton took a fall going for a loose ball and came down hard on his hip. The go-to scorer, he g
ot up limping but stayed in the game.
Rural barely hung in the game, but hit enough free throws to go into overtime tied 41-41. Coach Stroh said the strategy going into overtime was simply "to find a way to win,".
In overtime the Firebirds could not buy a bucket, and the Jr. Blues hit enough shots from the charity stripe to run away with the lead. Rural won the game 45-54.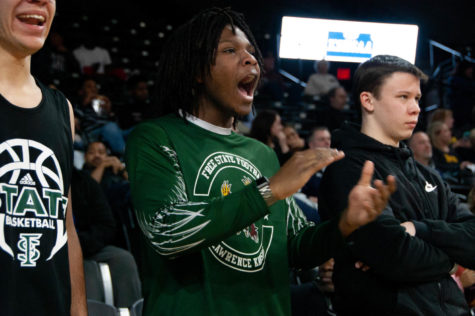 "There's a million things that could've gone better," Lincoln said. "Whether it's turnovers or a couple free throws."
This young team overachieved by many measures this season, with some fans and the media not expecting a return to State. For the two senior starters, this will be the last high school basketball game they ever play. But for the underclassmen, this will be an experience that could motivate them to return to Koch arena next March.
"I love my seniors and I love my coach," Wisdom said. "I can't wait for next season."
Leave a Comment