Playoff Prep: Football team makes progress towards state
Football team gets stronger nearing post season playoffs
Free State's varsity football squad kicked off the season with six wins and one loss, ranking them tied for second in the Sunflower League. Currently, the team is still adjusting to new head coach Kevin Stuart and an unfamiliar playbook. Members possess immense individual talent on both sides of the ball, but during Free State's second game, they failed to bring both sides of the ball together late in the fourth quarter.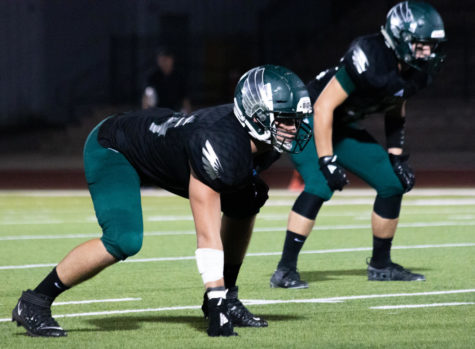 "It's one of those things where we're a team that is so used to winning throughout the season," offensive coordinator Taylor Stuart said. "It would have been easy for the kids to kind of shut down, but they took that loss. "
While each member of the squad continuously displayed specific, personal talent, they struggled to come together as a team early in the season. Throughout the first four games, defense and offense would only make individual plays, rarely cohesively.
"That's what we're working to do," senior starting wide receiver and 6th ranked Sunflower League receiver Marcus Preston said. "Like right now the offense will play a good game and the defense won't. So once we bring those two together we'll be a strong team."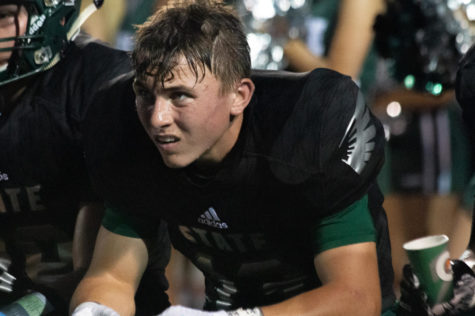 Despite their lack of togetherness, the team bounced back to win two blowout games against Shawnee Mission North and West. Their improvement can be largely attributed to strong leadership among players. 
"We've got a lot of leaders whether it's our 6 team captains with Tuner Corcoran, Colter Maldonaldo, Marcus Preston, Devon Buck, Malik Berry, Ben Miller," Stuart said. "But it doesn't always have to be our seniors that are leaders. We've had Tyler Bowden, a junior, step up." 
Junior Tyler Bowden has led the offense with 17 touchdowns and over 1000 yards rushed, leaving him the second ranked running back in Kansas. As a strong athlete and fellow player, he has high aspirations for the team.
 "I think we've got a lot of things to work on—we got a lot of potential, got a lot of athletes," Bowden said. "I think we got to come together as a team and play together as a team."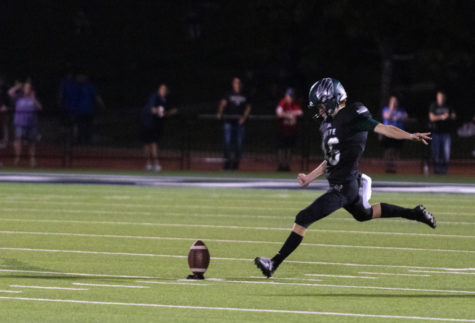 In regards to the Sunflower League, Free State is tied for second while Lawrence High remains undefeated at the top—however, the team prioritizes winning the state championship over the league.
 "It's always a bonus to win the Sunflower League, but our main goal is to win a state championship, so if that means we take second or third in the sunflower league that's fine," Stuart said. 
Regardless of the goals, Free State will continue to work hard on and off the field to work hard and get better every day.
"Right now we just gotta get better every practice," Preston said. "But eventually, I think if we can peak at playoff time we'll be ready."
Leave a Comment