FEATURE: Barstool Sports: Attacking Athletes or Harmless Humor?
Unaffiliated high school Barstool Sports twitter accounts have become a favorite amongst students, the question arises whether Barstool sports is a comedic or harmful way for students to keep up with school sports.
During recent years of the increasing social media presence in schools, Barstool Sports twitter accounts have become a prevalent way for students to keep up with school sports programs.
Barstool Sports accounts are unaffiliated with schools official sports teams, though run by multiple students within the school.
Senior Will Young, a member of the varsity football team and avid participant of the hype club, says it amplifies school rivalry.
"[Barstool] makes a great competitive nature between schools, gets people going, and makes everyone bring the hype back to sports," Young said. 
Although many feel these accounts are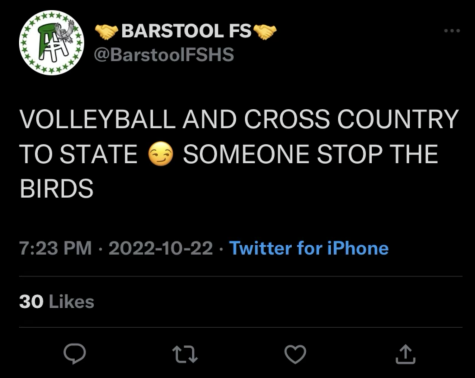 helpful in building school spirit and bringing excitement to games, some feel they have also grown into harmful platforms—with many student athletes experiencing a new form of local public cyberbullying that we haven't seen in the past.
Barstool social media accounts are notorious for their lack of filter and comedic hostility, and accounts from other schools in the district have used this excuse to make comments some students deem as inappropriate and unwarranted. 
"Some schools take it way too far, there's some things that really shouldn't be talked about or shouldn't be brought into sports, [such as] private issues or things someone is really insecure about," Young said.
As devastating and humiliating as these posts may seem, many athletes at school have remained in good spirits regarding the use of Barstool accounts. Junior quarterback Wesley Edison believes Barstool amplifies the humor to be found within sports rivalries.
"I think [the accounts] sometimes attack players, but for the most part Barstool is supposed to be funny," Edison said.
Many athletes who are subject to being posted don't seem to mind the negative comments, but with recent posts made by Olathe West's twitter account, a different reaction has been sparked among students.
On Sept. 2, the Olathe West Barstool account made a derogatory post regarding the Firebird spirit squad. Many students in the school saw this as completely unwarranted, but one of the cheerleaders in the post, freshman Emi Stone, sees it as a reflection of those running the account.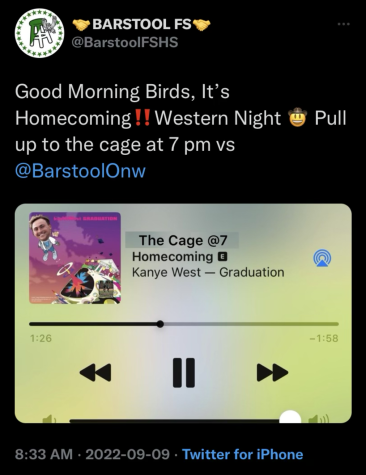 "My personal opinion is if you have to make a comment about the cheerleaders, then your football team must suck," Stone said.
Finding the humor in these derogatory posts and maintaining a sense of lightheartedness and competitiveness comes easily to some athletes.
 "I see [Barstool accounts] to be more humorous than helpful or harmful, I see myself on there sometimes and I kind of think it's funny," Edison said.
As social media consumers and inherently socially curious teenagers, it's effortless to actively consume and only recognize the positive effects posts can have when it comes to sites such as Twitter and Snapchat. However, it has become increasingly important to consider the contradicting effects these accounts can have on athletes' mental health as well as the athletic environment.