SPORTS: Firebird Trio Reaches Milestone
Senior wrestlers Matthew Marcum, Eric Streeter and Nolan Bradley join the 100-win club during their senior seasons — joining only two previous firebirds to do so.
Head coach Randy Streeter had a vision when he was hired three years ago: build a winning culture immersed in camaraderie and brotherhood. Not only has that been accomplished since his arrival, but his three senior captains have exemplified it. 
Seniors Matthew Marcum, Nolan Bradley and Eric Streeter have amassed impressive accolades over their careers. These three's friendship began in kindergarten, where they met on the mat. 
Randy Streeter spoke about his program's philosophy and how he's fostered a competitive outlook in his wrestlers. 
"It's gonna give you a winning perspective in the classroom and a winning perspective in the community," Randy Streeter said. "Kids are scared to come out for sports because they don't think they're gonna shine. They don't think they're going to be that guy. Well, you can be that guy. You just gotta come and put the time in."
Matthew Marcum
Upper-weight star Marcum is in the midst of a spectacular undefeated season with 36 wins, and zero losses. He is closing in on the Kansas single-season pin record, which Randy Streeter anticipates he will likely conquer by the end of the year. 
For Marcum, focusing on making small individual strides helps him key in on his bigger goals. 
"Every single day I come into practice with the same mentality," Marcum said. "It's not that it's getting easier, it's that you keep pushing yourself forward so that the struggles get a lot easier. If you get better by 1% each day, you're going to be really good."
Additionally, Randy Streeter recognized the confidence and flair that Marcum carries with him every day. 
"Matthew doesn't believe that anybody can beat him at anything," Randy Streeter said. "That's how he wakes up. You can't beat me at anything. Not in an argument. Not at spikeball. You can't beat me at anything. It's his confidence that has carried him."
Nolan Bradley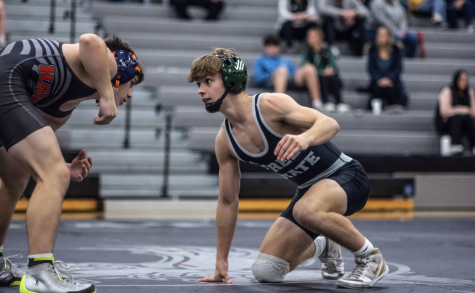 Lower-weight Bradley has been a force to be reckoned with for all four of his prosperous years as a wrestler. Not only has he stamped his name in the 100-win club alongside his senior captains, but he is also looking to do something no wrestler has ever done at Free State.
If Bradley places at state this year, he will become the only male Firebird ever to do so four total times. Bradley says he traces the success back to the source, Randy Streeter. 
"I've learned everything I know from him," Bradley said."He's helped me grow a lot, from kids wrestling, through middle school, and all the way through high school. He's prepared me as well as anyone could have."
Being a skillful athlete can unlock many doors, but none as large as what attitude and effort can control. Randy Streeter credits Bradley's tireless work ethic and commitment to his success. 
"He's a pretty fierce competitor, always in the mix at the top in the state," Randy Streeter said. "His dedication—he misses nothing. He never misses. I don't think he's ever missed a practice."
Eric Streeter
Middle-weight wrestler Eric Streeter, the most experienced of the three, has been nursing an injury through his senior season. Unable to compete, Eric Streeter has taken on a different leadership role, helping mentor young wrestlers and raise the standard on the mat for those around him. Randy Streeter is keen on Eric Streeter's comeback and is encouraging him to make an impactful return.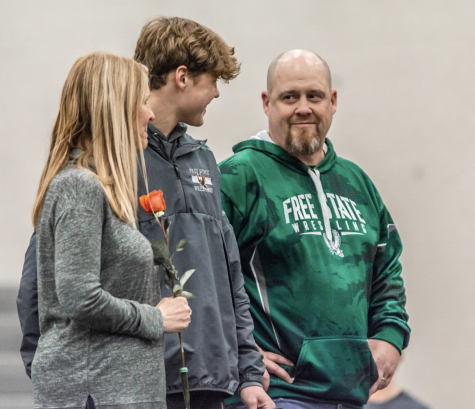 "What it's taught him is that 'it is what it is' and at any time you can get stopped by an injury," Randy Streeter said. "He's trying to manage it. He's not wrestling at league because he wants to try to wrestle at regionals and state. His focus has taken a turn. He just needs to get taped up and go after it."
Eric will return to the mat at regionals with hopes of producing a fruitful result and advancing to state alongside his teammates.  
Upon arriving, Randy Streeter has flipped the wrestling narrative, skyrocketing its numbers and delivering success. He plans to build youthful talent from the ground up, but this memorable trio of senior captains set the standard, and are unrivaled in that regard.
"We want history to repeat itself," Randy Streeter said. "It's a pretty special situation, watching that growth and watching everything that we taught them when they were little come to fruition. It's gonna be sad to see them go. They're three of the greatest wrestlers that have ever been in this building."