SPORTS: The Face of the Future
Girls wrestlers Ava Corbin and Daijah Preston both capped great displays at regionals, and punched their ticket to state in Wichita on Feb. 22.
Every sports program needs a blueprint. They need a way to foster growth and a future to look forward to. That growth can come from a combination of things, but for the girls wrestling squad, freshman Ava Corbin and sophomore Daijah Preston are two names to remember. 
Under head coaches David Blazevic and Carl Springer, the Lawrence High and Free State girls co-op team have gained significant traction with the recent regionals performances from Preston and Corbin. 
Ava Corbin
As a first-year wrestler, Corbin said she has seen favorable results on the mat and has had a positive experience with her teammates and the sport in general. Coach Blazevic said he attributes Corbin's dominant athleticism and competitive edge to her quick success. 
"She has that attitude of she is the best at whatever she does, whether she's wrestling, playing volleyball or even playing ping pong," Blazevic said. "She's trying to do the best she can, and that's the mentality that helps her be successful."
Additionally, Corbin finds that confidence can help any athlete bolster their chances at winning. 
"Confidence is the most important thing [in wrestling]. If you go into a match thinking that you're gonna fail, then that'll be the outcome," Corbin said. "When you show up to practice every day having confidence and working toward your goals, then it's going to be a more successful season."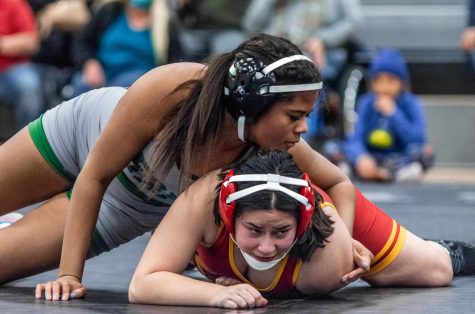 Daijah Preston
Preston, a returning wrestler, has seen similar success throughout her sophomore year. During the season, she has taken on a leadership role on the mat, encouraging her teammates and looking to better herself in every way possible. 
Blazevic has encouraged Preston to take on that role and spoke about how she helps her teammates improve.
"She has that work hard mentality where she does everything as best as she can," Blazevic said. "She set the goal to make it to state this year, and she did everything in the practice room and on the mat to achieve that goal." 
Program
Blazevic has ambitions to grow the program with goals of doubling the number of girls that come out next year. With wrestlers like Corbin and Preston serving as an example of what can be accomplished, the team is hopeful that his goal will be accomplished. 
Furthermore, Blazevic noted the benefits wrestling has on friendship and togetherness. 
"It's pretty tough to get out on the mat for six minutes," Blazevic said. "Having that teammate that helps and talks to you afterward, it's been huge for our team. Our girls have done great being a support system for each other after losses to help build them up."
With the goal of building a program in mind, Preston has not only taken vocal leadership in practice, but has also been vocal to other girls considering wrestling. She said she encourages anyone on the fence about wrestling to give it a try because no one is there to judge you for it. 
"Wrestling is great," Preston said. "You get to be yourself and you don't have to worry about disappointing anyone because no one's perfect and no one's looking for you to be perfect. They're just looking for you to try your best."