SPORTS: Compete to Repeat
Girls swim and dive looks to defend as reigning state champs
Girls swim and dive has started this year's season as a heavy favorite to repeat as state champions.
 "I'm really excited to compete for back to back state championships," junior Liza Engelbrecht said.  "We have many new swimmers, so I'm excited to see what we can accomplish."
Last season ended with an impressive showing in the state competition. At least one firebird swimmer finished top eight in each event, resulting in a state championship. This season, each swimmer has identified individual goals to strive for, but the main goal for the team is very clear: to repeat as state champions. 
"A lot of the girls are looking at times already and saying their goal is to medal at state and league, and to contribute to the team as much as possible," coach Annette McDonald said. "But, of course the team goal is to repeat as state champs."
Despite the loss of six seniors last year, most of the heavy contributors to that state championship run have returned. Seniors Bradie Ward, Halle McCullough, Samantha Packard and junior Liza Engelbrecht round out the core of high finishers in state events. They have taken ownership of the lead role in the program and are helping to build up both new and returning swimmers. 
"We call on our senior leadership for everything," McDonald said. "We use them as examples for new swimmers learning a new strategy or technique to help them improve."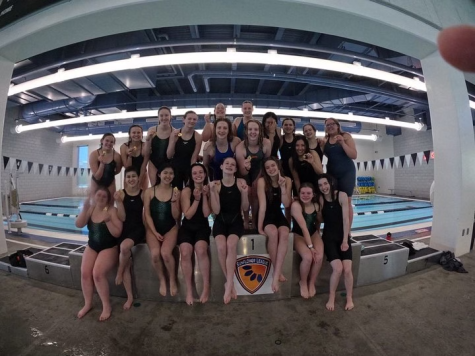 To reach such high goals, support and encouragement is needed. The team feeds off of positive energy and encouragement from each other, which pushes them to work hard and reach their goals. Swim season is demanding given the amount of practice time that is required, so the encouragement each swimmer contributes helps to elevate their goals.
"I just want everyone to do their best and feel confident in the times they are putting up, and to feel like they accomplished something good this season," senior Olivia Romero said.
Swim practice began on Feb. 27 and the chance to become back-to-back championships grows closer each day.