SPORTS: Swinging Through Adversity
The boy's varsity baseball team has hit the ground running to start the season with only three losses to their name. The squad has found success both hitting and on the mound, and have slotted themselves inside the Metro Sports KC Top 25 rankings, coming in at eighth as of April 5.
Despite the recent triumphs, the beginning of the season has been everything but linear for the birds. Since the start of the season, they have watched three senior leaders fall to injury in a short span; however, the mindset of the players stays the same — to win games.
"We're already off to a pretty good start," senior Michael Lickert said. "We have good pitching, good defense, and three guys that can go deep into games: Tyler Jeffries, Ben Graves and Kyle Graves. They always give us a really good chance at keeping the opposing team at bay and letting our bats do the work."
Although the Firebirds have lost experience in the lineup, the injured team members have not shied away from making an impact in the dugout.
"Even though they're injured, Brady Kern, Tyler Vigna and Colton Berger have all been good supporters even though they've been on the sidelines," sophomore Ryan Weishaar said.
Weishaar said he appreciates the start to the season and wants to use it as a confidence booster.
"We don't want to get a big head obviously, but it sure gives everyone a lot more confidence. It helps us not to be as afraid out there and just play loose," Weishaar said.
Additionally, Weishaar reports that the mindset is the same even with the loss of senior leadership.
"So far, everyone that's had to step up and play has done a really good job and nothing's changed about the season," Weishaar said.
As a senior, Lickert does his best to build up that same confidence in all of his teammates, especially with the absence of multiple upperclassmen.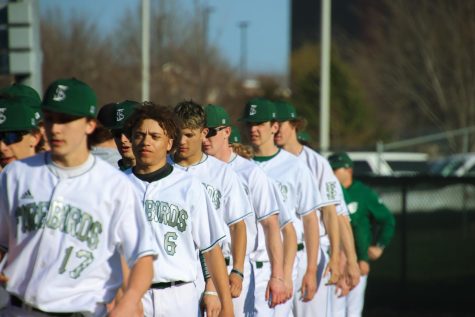 "I've tried to take on a leadership role and lead by example," Lickert said. "I try to be selfless and give people something to look up to and something to look forward to. Every time they get in the locker room or go up to bat, I try to reinforce confidence in every single one of my teammates."
In return, Lickert thinks the team has shown grit and determination throughout the season.
"No matter the game, our attitude has been positive," Lickert said. "In our one loss, I feel like we were in it the whole time — never getting down on each other, and just being positive. The chemistry in the locker room has been amazing."
Through mental strength and determination, the Firebird baseball team is working to overcome its challenges and is looking to have big success thereafter.
"Baseball is a game of mental challenges. You're failing way more than you're succeeding, especially at the plate," Lickert said. "So, whenever someone strikes out or grounds out or does something they didn't hope for, we try to pick each other up so that our guys can get in the right mindset of going out on the field and making the next play."