Lawrence, KS, one of many midwest cities currently trapped inside a heat zone, has broken its own heat index record twice in the span of a week with index temperatures reaching up to 135 F. Small, everyday tasks like walking to your car or taking your dog around the block have become heavily taxing for some people. For sports, this heat presented especially difficult challenges for both athletes and coaches.  
Varying on the sport, Free State practices have been canceled or moved around to combat the unwavering heat. For football and boys soccer, waking up early before school to practice has been the answer. Cross country, on the other hand, opted to remain inside after school for practice. However, girls tennis was forced to cancel all practices throughout the week.
Additionally, the well anticipated football jamboree scheduled for Aug. 25 kicking off fall sports was canceled due to scorching temperatures.
If one thing is for certain, athletic director Jered Shaw has been put in a position to make numerous important decisions during this time.  
"Any decision we make, student safety is number one. We always think about what's the safest possible way we can do things," Shaw said. 
Through these hard decisions, Shaw expressed his gratitude for cooperative coaches and athletic trainer Kaarin Hoogstraten, who has helped enforce safety regulations using a wet bulb thermometer. 
These thermometers accurately measure the effects of current temperature, humidity, wind and solar radiation on humans. Along with that, a chart certified by KSHSAA assists Shaw and administration to make decisions regarding heat safety.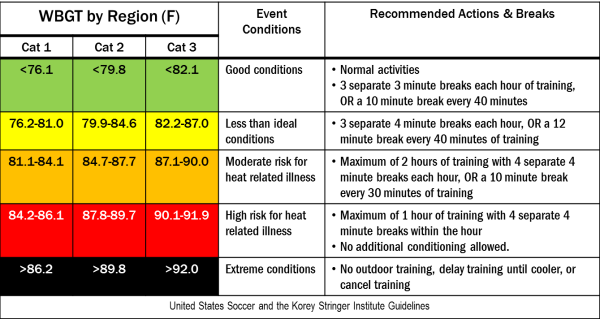 "If you're in the black, that means no athletic events can happen outside so it makes the decision easy… I'm not just making a judgment call. It's based on actual data, actual facts and what the temperature is and what's the safest way to move forward," Shaw said. 
Logistically, making accommodations is one thing, but for athletes, it's been an adjustment both mentally and physically. Senior soccer player and captain Blake Warner experienced these conditions first hand. Starting on Tuesday Aug. 22, the soccer team has woken up for 6 a.m. practice. 
"We found a way to practice in the morning but that's only for 45 to 50 minutes and that's not ideal. We want more time outside. Obviously, we understand the heat wave, but in terms of preparation, it's hindering our progress," Warner said.  
However, for a sport like cross country that requires an abundance of space, they have been forced to transform their training schedule to fit the indoor space available. Additionally, for head coach Steve Heffernan, he said finding a time for the whole team to be available through the heat has proved to be another roadblock.
"What we've put as a priority this week is whatever we're doing, we're going to make sure we can all do it together because it was only the second week of practice. We're still trying to get to know each other and build some team culture," Heffernan said.
Despite the negatives, athletes found positive outcomes from the dangerous heat such as soccer getting an opportunity to go over strategic plays and cross country having the chance to utilize the indoor pool.
Starting next week, multiple sports will begin competition. Shaw and administration will have to continue to make decisions based on KSHSAA safety guidelines. Shaw explained that a commonly used strategy to avoid the heat is to possibly delay games later into the night.
The heat dome is said to travel out of the region over the weekend, bringing back a sense of normalcy and relief. Luckily, for the athletics program, the heat arrived early in the season. Fall sports, a time that so many cherish, can hopefully be enjoyed for the duration of games and events. 
Whatever the circumstance, Shaw and his staff said they are committed to doing everything necessary to ensure the safety of players and coaches.
"Our coaches would never put kids in a situation where they were unsafe. Unfortunately, that can't be said for every single school across the state. We have to have certain things in place so that people like me have ways to hold them accountable. We're making sure that kids are always safe and we aren't putting them at risk in any way," Shaw said.