A long awaited girls volleyball season has officially begun after the firebirds clashed with Topeka Seaman on Thursday, Aug. 31. Coming off a fourth consecutive substrate win, head coach Jayme Savage and her squad return with eager expectations and plenty of excitement. The girls varsity team will see a lot of new faces, as the team returns only three players from last year's squad, two of them being sophomores.
Additionally, losing standout players such as now University of California, Berkeley volleyball middle blocker Sawyer Thomsen and Washburn University outside hitter Rylee Unruh, the girls are faced with adversity. However, for the players, there is a lot of optimism to be seen in these new challenges.
Outside hitter Fiona VanDyke, a returning senior, is ready to create new success with this year's team. VanDyke explained the nerves that she feels many of her teammates have experienced as new members of the varsity team. VanDyke noticed the effects of those nerves during their first game, where they fell to Topeka Seaman in straight sets.
"We kind of scrambled a bit and it was a little chaotic, but I think that's definitely something we can work on. We got the jitters out after the first game," said VanDyke.
However, VanDyke said she is confident in the ability and determination that her teammates have.
"It's going to take a little time. We're still figuring out connections and stuff, but I think they're definitely stepping it up and trying to fill that void," VanDyke said.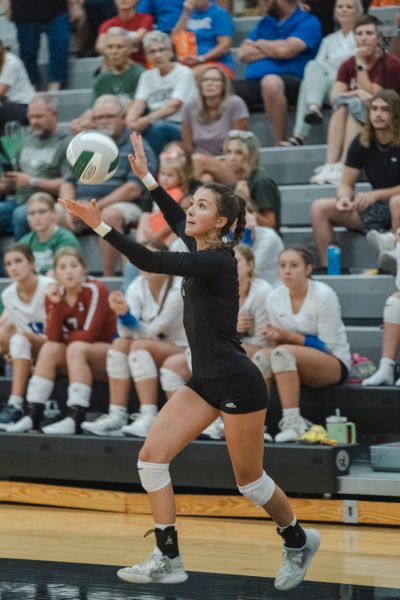 Additionally, junior libero Karsen Chapman has had similar observations, claiming that the team is working hard in practice and that the team chemistry has boiled over well. Furthermore, Chapman noted that the blend of personalities in the team has been a treat on and off the court. She also pointed out that the team chemistry can be credited to the relationships that the new varsity players made last year together.
"Since we only have three returners, we were already on JV together. They're also just really great leaders," Chapman said. "We all get along really well, and have good chemistry."
VanDyke and Chapman had similar comments when asked about their aspirations at the end of the season.
"We obviously want to win sub-state and we want to be state bound," VanDyke said. "Just doing everything we can in practice, like watching film, and especially just not giving up in practice [can get us there]."
The firebirds will swing back into action on Thursday, Sept. 7 when they face off against Blue Valley Northwest and Washburn Rural.