Coming off a successful season placing fourth at state, the girls tennis team returns to the court striving for success again, but without multiple key players who graduated. The new team will look at a new varsity lineup this fall, leading with Varsity Captain senior Maya Lee. 
"Those that attend varsity and JV have different personalities, but the varsity has done great with getting along and supporting each other throughout the season," Coach Randy Clark said. 
Leading the great team dynamic, Lee has switched from her old duo team to now competing individually. In the past, she played duos, but her partner graduated so she is now on her own; however, her team is always by her side giving her a nice thumbs up from the outside of the court. 
"I'm very in my head and I'm not particularly positive, but every time I turn I get a thumbs up from the majority of [my team]," Lee said. "They're making jokes at my expense, but in a light hearted way. I can hear myself getting made fun of but it gets me out of my head."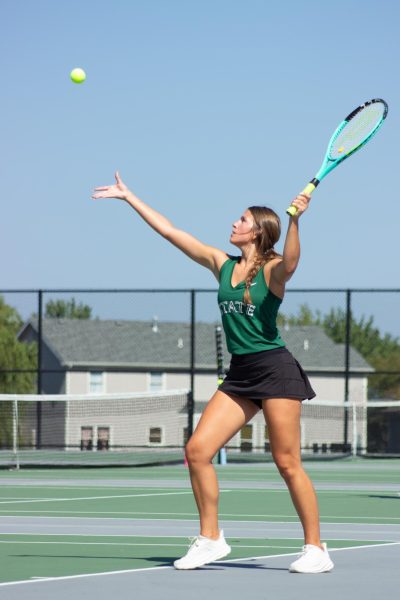 The pressure feels intense for her during the singles matches, but she always would have her match partner next to her making sure she wouldn't even give up. Even with college scouts watching her in her matches, she sees pressure as a privilege. 
"The pressure adds to the excitement of it. I feel like I have something to lose," Lee said.
One way the dynamic is seen throughout the team is their second instagram account; their "finsta". The team uses this to post other photos from their tournaments and practices just to have some non intense moments. 
"I support the girls' right to have their finsta, but I do my best to stay out of it," Clark said. "They seem to enjoy the hashtags and stories that are told with every post, so if it makes them happy, then I'm in support of it."
Moving forward, the team will look to repeat their placing at the state tournament and hopes to win a podium trophy. Lee hopes to help the team stay on track for their goal and leave an impact on her high school tennis career.
"I am really grateful for my high school tennis experience," Lee said. "I'll be sad when it's over to some extent, but I'm looking forward to seeing what we do with the rest of the season."