Sam Hay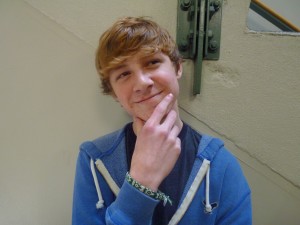 Known for his energetic personality and "Kelly Clarkson sass", Sam Hay brightens the Free State hallways. Hay attributes his energetic personality to his seven years of acting, claiming that it helped him break out of his shell.
"Acting and theater has made my life better, I've made so many friends, I'm also more comfortable being myself," Hay said.
Hay has gotten plenty of hype for his amazing acting and is seen as a token face of the Black Box and Main Stage theater, his greatest achievement being Oliver in Oliver for the Lawrence Art Center.
Along with that, Hay has an electric disposition. Hay is constantly having fun and cracking jokes during class and loves making new friends.
"I like making others happy by making a fool of myself," Hay said.
Hay likes being the center of attention and making others feel welcomed in class. Hay's best friend, Sophomore Anna Patterson, agrees.
"I like that Sam makes a class a collaboration." Patterson said. "He makes the classroom more positive and energetic."
Hay has a wide variety of hobbies, from running for the title of Fascist Dictator of Thespian Club to participating in forensics, acting, and Free State's Improv Group.
Outside of theater, Hay juggles four advanced classes, excelling in each. He plans to continue acting in college.
Perhaps one of Hay's most important qualities is that he says true to himself. He does not let people's opinions bother him; he acts himself 100% of the time by not being afraid to vocalize his opinions and does not agonize over people's opinions of him.
Sam Hay's intriguing and bold personality makes him one of Free State's best.